Provost's old friend delivers informative speech, says 'the dream still matters'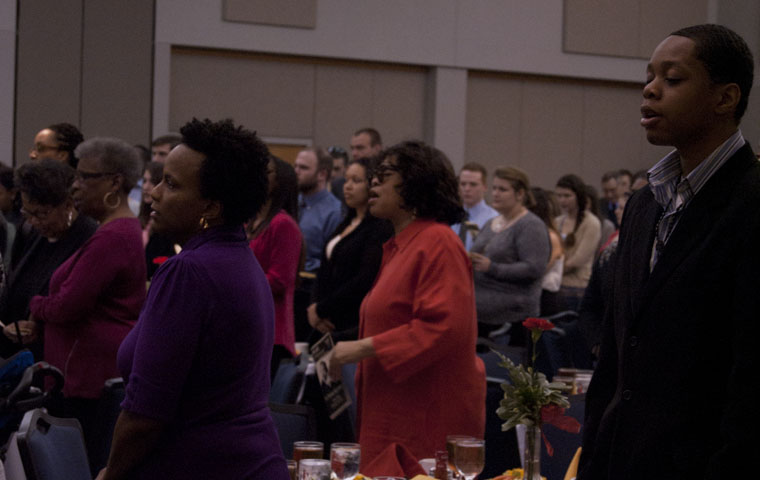 James Anderson, a man of more achievements than one can count on both hands, delivered an informative speech during the 2015 Dr. Martin Luther King Jr. Memorial Luncheon.
Anderson, the Edward William and Jane Marr Gutsgell Professor of Education; head of the Department of Education Policy, Organization and Leadership; Executive Associate Dean for the College of Education and affiliate professor of history at the University of Illinois – Urbana Champaign, was surprised to see that he was not just speaking in front of a classroom.
"I didn't know when I accepted the invitation that it was such a special occasion in Evansville. (Rochon) just said 'well, why don't you come over and talk on MLK Day?' So I said 'OK.' I thought it would just be the students," he said, "I didn't know it would be the whole community and the mayor and community leaders and trustees, so I was very pleased with the whole commemoration of Martin Luther King and the way USI has put together a celebration."
Since Anderson expected his audience to consist solely of USI students, his speech emphasized stories about his own experiences with the civil rights movement and the reasons why "the dream" still matters.
Anderson educated the audience on voting disenfranchisement, income inequality and how the things that people marched for in the civil rights movement are still things that need improvement.
"We should not focus on 'I Have a Dream' to the younger people because they don't know what we're talking about," Anderson said to the crowd before telling a story about a young boy who thought King was the first man to have a dream.
"'I Have a Dream' is a metaphor for a vision – a plan," he said.
Anderson included infographics with statistics that proved that the things King fought for are still things we should be fighting for today.
According to Anderson's presentation, African Americans make up 25 percent of adults without a valid photo ID. Asians make up 20 percent, Latinos make up 19 percent, 18 to 24 year olds make up 18 percent, seniors make up 18 percent and those who make less than $25,000 a year make up 15 percent.
"I wasn't expecting his speech to be about voting, but I wasn't against it at all," said senior public relations and Spanish double major Odalys Miranda. "It makes me think about current voting registration and how privileged I am to have the right to vote and to not abuse that gift."
The 2015 luncheon was the first one Miranda has attended and she said she is happy she did.
"It kind of puts it into perspective – the privileges that we have here at the university. It makes me think better of USI for hosting an event like this," she said.
Anderson said he thinks the people we touch are a lot more important sometimes than the achievements and accolades along the way.
He seems to have inspired Miranda.
"I'm going to go register to vote. I have not done that. I'm 21 and I still have not registered to vote. It's just one more thing I'm going to do because I can," Miranda said.
The luncheon attracted a very large audience. More than 350 guests attended the event in Carter Hall.
"We are limited by the amount of space we have," said Pamela Hopson, Multicultural Center Director and the luncheon's mistress of ceremonies. "300 is the official number of people that we can get in here with the stage. The university has been very accommodating with allowing additional tables. We usually max out at 392."
She said she was very pleased with the luncheon, especially Anderson's speech.
"I think that it challenged us and also caused us to reflect back on history. A lot of times when we bring speakers in, they talk from the standpoint of 'I remember hearing,'" Hopson said. "But our speaker today, Dr. Anderson, made it a history lesson for us and a lot of times we don't get that information in a classroom setting."
She said it's important for the college student generation to be informed because they did not live through the civil rights movement.
"It seems like so long ago, even though when you think about time, it really seems like yesterday, but this generation is so far removed from that," Hopson said. "I think he was able to put it in the proper context. There are a lot of people who still cant afford to put food on the table or a roof over their heads and the issues are not getting smaller, they're getting bigger. We've got to figure out ways to turn that around."
Anderson said if he could leave the students of USI with anything, it would be advice to engage their own communities around issues of change in the way the people of the civil rights movement did.
"There are always ways to improve your community, to improve society, to improve institution," Anderson said. "And there are constructive ways to do that."