Marcum earns career high: Sophomore leads Eagles to sixth consecutive win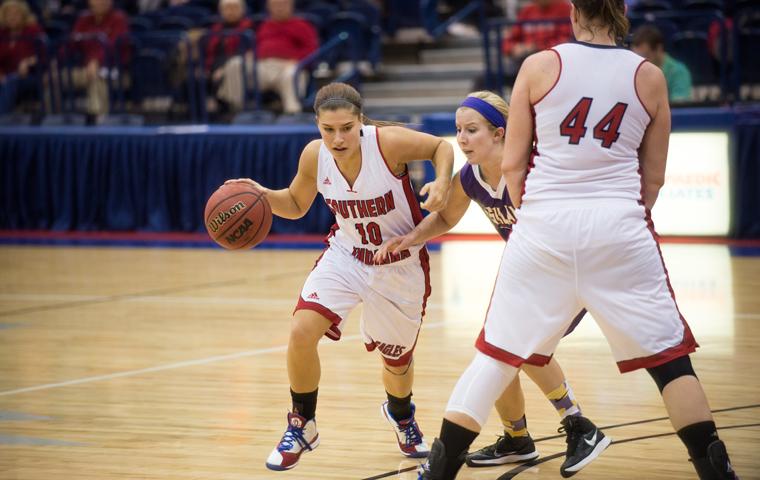 New Albany native Tanner Marcum scored a career high 22 points Sunday afternoon against Newberry College to finish up the USI Thanksgiving Classic.
The sophomore guard scored five points in a 10-2 run that transformed the Eagle's two point lead into a 10 point lead with just 10 minutes left in the game.
Later in the second half, she led a 13-0 run with seven points, giving her 14 points in the second half alone, and giving the Eagles a 21-point lead.
Marcum credits her successful scoring average this contest to her teammates who "just saw that she was open and passed it to her."
She played 28 minutes this contest, far more than her average of 5.9 minutes last season.
Her season-high score last year was just eight points in the team's wins against both Salem International and McKendree University.
"I didn't get a lot of playing time, but this year I'm getting a little more and I just feel more comfortable out there," she said. "Last year, I was just a freshman, I was a baby, I didn't know what was going on really, but I feel a lot better this year."
The Eagles had a slow start, fighting for a significant lead throughout the first half and leading only by three points at halftime.
"Our defense picked us up throughout the whole second half and our intensity improved," Marcum said.
Women's head basketball coach Rick Stein was impressed with Marcum's performance, he said.
"Tanner has been playing outstanding," Stein said. "Obviously, putting up 22 points is great, but she has five rebounds, she has two assists and she's obviously playing a basketball game that's more than about getting buckets. I have a lot of confidence in her game right now. It's great to see what her and our bench can do. Our bench this week did really well."
Having played two exhibition games and seven regular season games in November, the team will see a much slower December.
It will not compete in another contest until 6 p.m. December 9 at home against Salem International University.
"We're going to take a day or two off this week with finals coming up shortly, we've got to focus in on that student athlete side and get some things done there," Stein said. "The great thing is that we're going to have time to get on the court and really practice, and hopefully we'll get a player or two back from an injury and just add to our squad as we move forward."
Stein said the team has not peaked yet and its best is still to come.