Largest crowd yet helps fill empty bowls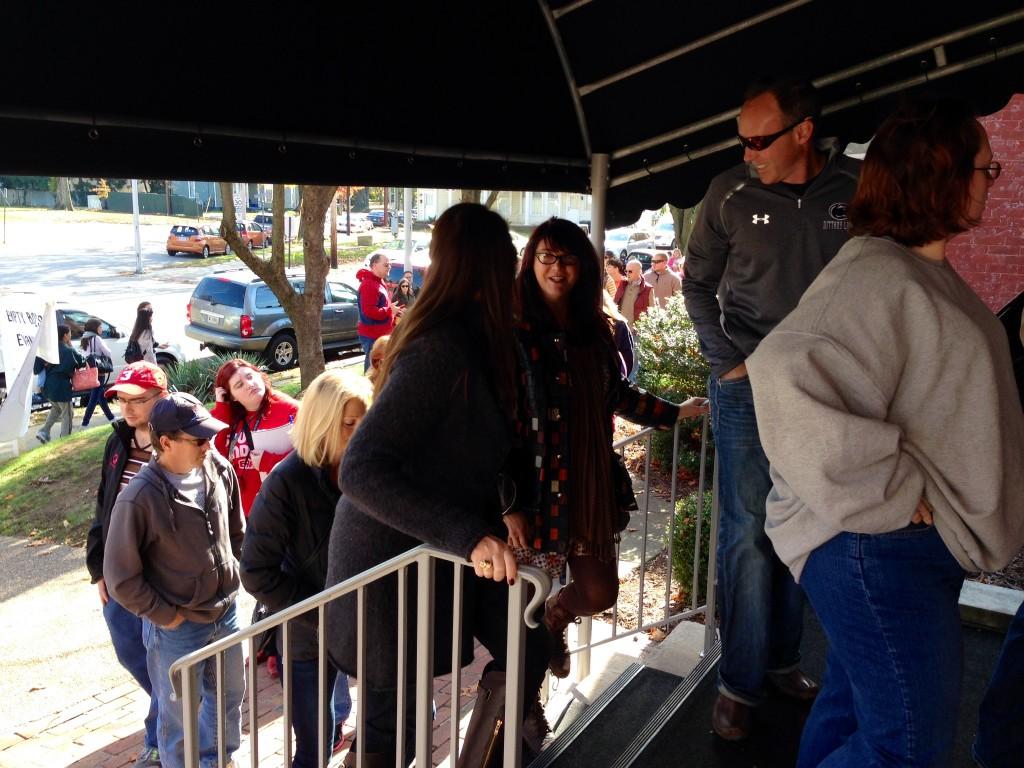 UPDATED 10 a.m. Tuesday
Smiling faces lined Parrett Street south of Kirby's Fine Dining in downtown Evansville Saturday morning as families, couples, friends and individuals awaited handcrafted bowls and Twilight Bistro soups.
"Because you all waited so patiently, we're going to open five minutes early," Alisa Holen yelled from the steps of Kirby's.
Everyone cheered.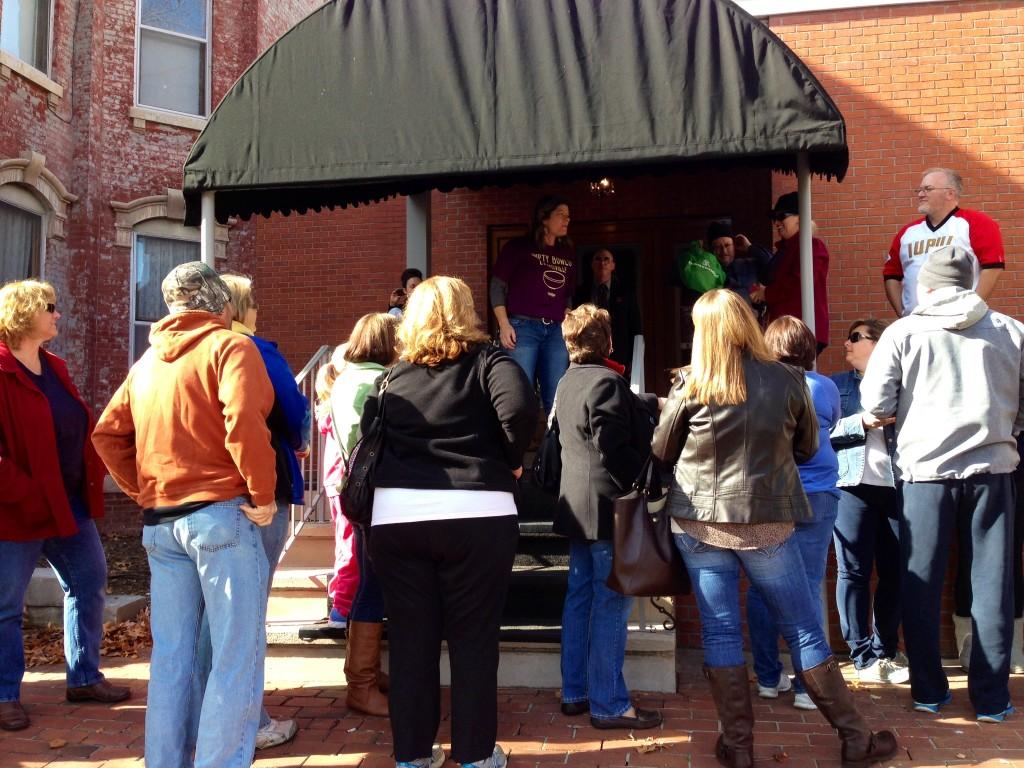 And with that, hundreds made their way inside, filling the restaurant's main dining area in seconds.
The sound of bowls clinking could be heard inside as the crowd scoured the room slowly, bumping into each other, looking for the best bowls.
Empty Bowls is a national non-profit. Each bowl, many of which were made in ceramics classes, by USI faculty or by local high school students, cost $10.
This year, $10,300 will benefit United Caring Services, which provides meals and overnight shelter to the homeless and struggling individuals; and Aurora, which assists domestic violence and child abuse victims.
Tonya Rine serves on United Caring Services' Board of Directors.
She said the money raised by Empty Bowls would benefit the organization's new Moving Forward program and case management for the homeless.
"What we try to do is change people's situations so they're not homeless and they can get out of that circle," Rine said.
She said because the federal government continues to cut programs, UCS has to raise the money itself.
The organization serves over 10,000 meals a month, Rine said. It also oversees Ruth's House, an emergency night shelter, which she said students sometimes take advantage of.
"We have young girls who will stay at the Ruth's House who are still trying to finish their education," she said. "We have some nursing students – things have just happened where they've lost their job and they end up in the shelters."
Rine said UCS appreciates the partnerships it's developing with USI.
"We have a lot of students who will come and do food testing and different things at the shelter," she said. "We think it's important for students to help out because we have almost like a learning environment at the shelter where we try to teach people how to change their lives."
Another $1,300 will go to the Basic School in Ghana.
Holen, an assistant professor of art, has organized the event for three years, but she doesn't choose which charities Empty Bowls will benefit.
Because the ceramics courses are service-learning courses in the fall, it's part of the students' responsibility to research local charities and pitch their ideas to their class.
"They find out where our money could best go to feed the most people," Holen said.
Twelve organizations helped create 1,070 bowls total.
"It's double the bowls of the first year and absolutely double the people," Holen said. "The first year, we had 500 bowls and at the end of the day – at 2 o'clock – we still had probably 60 bowls left over. Right now we probably have 60 bowls left and we've only been open 45 minutes."
Besides the number of bowls that were made, the biggest difference is that Holen is a lot more social media savvy this year, she said.
"The first year, I really had to dig for groups to come out and help," she said. "This year, I had to turn about 10 groups away just because we didn't have the time, space or volunteers to help them all out."
Kirby's donated its entire space free of charge. But some said the space wasn't big enough.
"We can't pay for a venue," Holen said. "We're 100 percent not-for-profit – we run on an operating budget of about $500, and that includes the clay. So, you know, it's whoever donates the space and the people at Kirby's have been great to work with."
One of Holen's goals for next year is crowd control.
As for the idea of more bowls, she said she needs a nice long nap before she even thinks about next year's event.
"Honestly, 1,000 bowls in one semester is really, really ambitious and it was tough," Holen said. "I don't think we, as the USI Ceramics Department, can do more than that. But if we gain some partners, we could."
She said her favorite part about the event is seeing so many people still appreciate fine art.
"There's no reason anyone needs a handmade ceramic bowl. There are plenty of bowls at Target and Walmart," Holen said. "But there's still something about that handmade object and maybe knowing the maker or having been a part of the making that's just so special."
Kristina Pugh helped wrap bowls during the event Saturday as individuals paid for their selections.
The junior studio art major designed two of the bowls that were for sale during the event, one being a 3-D matte white with black polka dots and the other a matte black.
"It's part class because we got points for making the bowls and it's part volunteer because we volunteered to trim all of the bowls and glaze them," Pugh said. "It's a three month long process and the people that volunteer stay up all night sometimes trimming bowls…But it feels rewarding."
Approximately 20 volunteers, including Pugh, spent Friday night and early Saturday morning prepping for the event.
"It's huge," Pugh said about the crowd. "It's really crazy. I don't think this place is big enough for everyone."
Pugh's friends and USI alumni Sarah and Stefan Moore stopped by and purchased two bowls – one being Pugh's.
"We were walking down here and we didn't expect to see so many people," said Stefan, who lives on 1st Street with his wife. "I mean people were lined up down the street."
"We were actually going to go to (Fountain View Mini Market) to get some like biscuits and gravy and walk back to our house," Sarah said. "But when we saw so many people, we were like, 'Oh man, we need to get in line and get a cool bowl.'"
By the end of the first hour, the crowd had shrank drastically, and by 1 p.m., Empty Bowls had sold out.