Midnight Madness boasts change in campus culture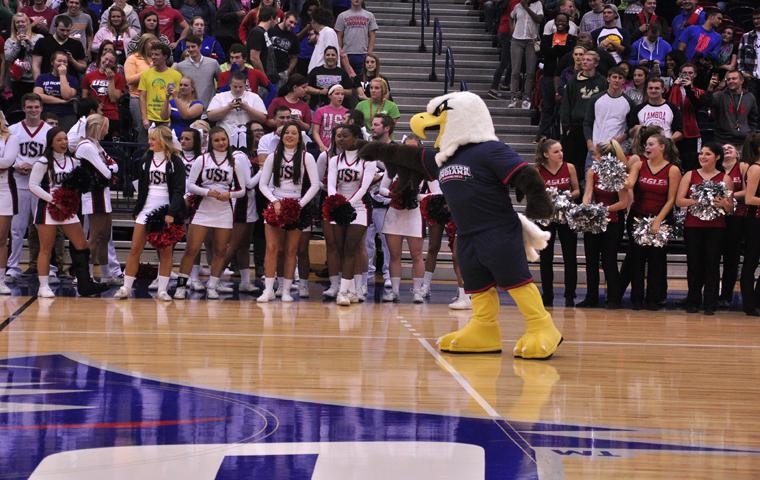 T.I.'s "Bring Em Out' blasted from speakers in the Physical Activities Center as the fan section stood up in unison, phones ready to SnapChat USI's new mascot.
A countdown began and as the audience screamed "One!" the new and improved Archibald Eagle ran out onto the court as a giant blow up Archie was unveiled behind him.
The crowd roared as Archie danced around the PAC
Old Archie retired to the shadows.
"We're trying to change the culture of our campus and I think this is a big success," said Rodney Watson, men's head basketball coach. "We're changing it from a culture known as a commuter school to a campus university that is interacting 24/7 and is a school that you want to come be a part of and live (at), not just go to school and go home."
Midnight Madness welcomed one of the largest crowds in its history Friday night, keeping fans entertained with games, raffles and blow ups as well as free food and refreshments.
The basketball players competed with the fans in musical chairs and tricycle races and showed off their skills with a 3 point shoot out and a slam dunk contest.
"To decide which players did what, we kind of started with the seniors. We wanted them to do anything they wanted to do because this is their last run and then from there on we asked the guys what they wanted to do," Watson said.
He said he hopes a similar sized crowd will show support at this season's home games.
"We need this to be an absolute pit and a tough place to play and students can create that environment," he said.
Women's head basketball coach Rick Stein was also impressed with the turnout.
"I've been here a long time, but this crowd might have been the best one we've ever had," he said. "It felt great to see our students come out."
Stein said Midnight Madness accomplished its goal of getting the students to know the players better.
Stein was just as impressed with Archie as the crowd was during the unveiling.
"I love it. It's great. I like the way they went about it," he said. "They kind of retired the old one and had a great unveiling of the new one. Our new logo is so awesome for athletics and the university, obviously, we've got it right here in the middle of the court and there's no question we were in line for a new Archie."
The basketball players enjoyed the madness experience as well.
Senior finance major Autumn Miller, a transfer student from John A. Logan, never did anything like this at her former college.
"We had students come to our games, but not many," she said. "I feel like a lot of fans come to this and they notice how big it is, so more people come out."
Midnight Madness was just one of the differences Miller has noticed between USI and John A. Logan.
"The pace here is faster and the coaching here is different. The way we play defense is different. We rush to the baseline instead of straight up and down," she said. "I like it a lot here, it's just different."
Miller, along with the Women's Basketball Team, will begin the season Nov.  7,  at Indiana State University. The men are scheduled to play an exhibition game Nov. 8 at The University of Dayton in Ohio.