Injured runner steps into new role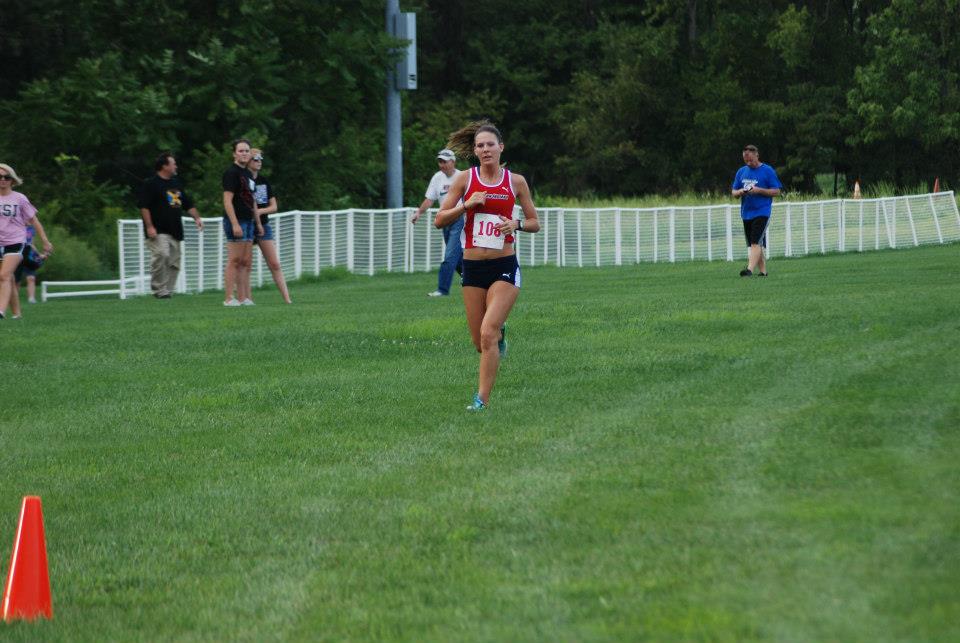 Nearly one year ago, Sarah Goffinet underwent thirteen hours of surgery after a nearly fatal car accident.
Goffinet was following her mother home to Tell City after a shopping trip on November 1, 2013, when she collided with a flatbed truck carrying a utility tractor.
She was trapped in the car when it caught on fire. It took bystanders, firefighters and EMT's nearly three hours to get her out.
"About a mile before my accident was the last thing I remember," Goffinet said. "Then I woke up five days later in the hospital."
Spiral fractures to the vertebrae, a lacerated spleen, damage to the peroneal nerve in her left leg, a compound fracture to her right fibula, a ruptured ACL and PCL in her left leg, two collapsed lungs, a fractured left humerus, patella, femoral condyle, and warnings of never running again have yet to stop Goffinet from moving forward.
"I actually ran a little bit about a month ago," said Goffinet. "My doctors were not very happy with me and it was very painful. Maybe after I have one last surgery, I'll be able to. But competitively, I'll never be able to run again."
Not being able to compete with the rest of the cross-country team is not enough to keep her away from the program.
Goffinet is now the cross-country team's Student Assistant Coach.
"As soon as I was able to talk, because I had a ventilator, I told my parents that I still wanted to be able to help out with the team and Coach Hillyard (Women's Cross Country Coach Mike Hillyard) said the exact same thing," Goffinet said. "He said he wanted me to help out and wanted to keep me around. Just because I cant run doesn't mean I should be excluded from everything."
Goffinet takes splits and helps the team before and after the races. She also gives the freshmen advice if they have questions.
Along with coaching, she takes 15 credit hours and spends the free time that  she does have continuing to heal.
"I've had to do physical therapy everyday since I left the hospital," Goffinet said. "I had to go to Cincinnati every Tuesday for twelve weeks straight to go to my knee specialist, but I'm starting to spread those out more. Basically, I have physical therapy appointments here once a week, occupational therapy once a week and physical therapy stuff to do on my own everyday, so it's pretty busy."
Hillyard has been with Goffinet every step of the way. He was even in the room when her parents were told she may not make it through the night.
"The doctor called the family back into a privacy room and her mother and father asked that I go back with them and the doctor, in fairly short order, said that there was a possibility that that could be the outcome." Hillyard said, "I don't think anyone was expecting to hear that because when she arrived at the hospital, she was still conscious, very alert and speaking to her parents. Between the time that they had seen her and that point, she had lost quite a lot of blood and consciousness. Her condition had declined at that point."
Hillyard said it was in Goffinet's best interest to stay involved with the team after her accident.
"She's very passionate about the sport. Her closest acquaintances and friends are on the team. That's kind of her circle of support," Hillyard said.
Hillyard thinks Goffet is doing great in her position, he said she is genuinely passionate about the team's success and wants to help facilitate that.
"She has a unique perspective," he said. "She has been through enough to know that your life can change in an instant and I think having her around is definitely a positive. It's really a good lesson in life to other kids."
Goffinet hopes to graduate in two years and move back to Tell City, her hometown, to get a job at a graphic design or advertising agency.
"I think she can really do whatever she sets her mind up to do," Hillyard said. "I really don't think what she's been through will compromise what she chooses to do in life. In fact, I think the opposite is true. It has made her a better, stronger person in a lot of ways."