Women's Soccer loses first game, looks toward promising season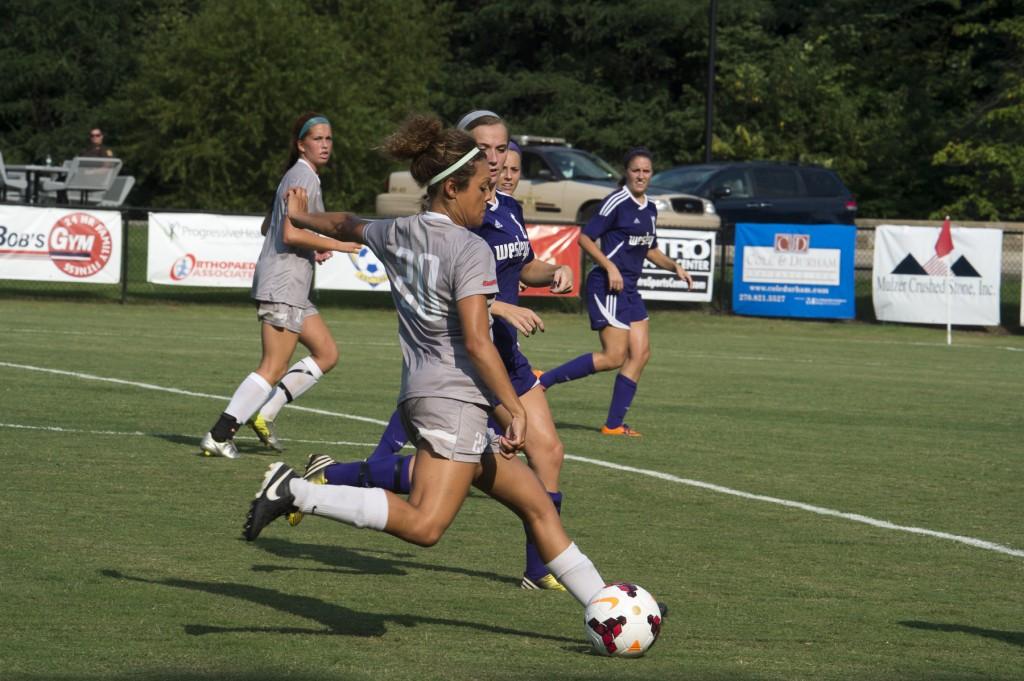 The Women's Soccer Team suffered a 4-2 defeat against Ashland University Friday at the Ohio Dominican Classic in Columbus, Ohio, but came back on Sunday with a 1-0 win against Ohio Dominican University, kicking off the start of its regular season.
The team was ranked ninth in the GLVC pre-season poll, but that doesn't have coach Kristy Engelbrecht worried.
"I have no problem being the underdog," Engelbrecht said. "We are just going to have to prove we're better. Our athletic ability is a lot better than most other DII teams."
The team started practicing two weeks before classes began. Now that classes are in full swing, they have two games and four practices per week.
This will be Engelbrecht's thirteenth season with the team. She prides her team for its unity and the enthusiasm the girls had for the upcoming season.
 "We are a lot deeper than in the past. We work better together and it's a good unit," Engelbrecht said. "We need to play really well and not take any games for granted."
Senior Marketing Major and Defender Rachel Mayse is enthusiastic about the team this year and what makes them standout from previous years.
"We have a lot to show this year. I'm optimistic about the season," Mayse said. "We have a strong motivation to win. Everyone is really excited about playing games and the drive is high."
The freshmen on the team played aggressively during summer practices to earn their spots on the team.
"We have really strong freshmen and three of them are starters," Mayse said. "The freshmen this year are, athletically, some of the best."
Forward Haley Rheinlander, one of the seven freshmen on the team, is noticing the competitiveness of college soccer.
 "We keep the practices game-paced, so everyone's going hard against each other," she said.
Rheinlander played locally in high school at Mater Dei, where she lettered in soccer, and was also a member of the SWISA Crush Soccer Team from 2009-2014.
She is no rookie to the game, but admits it takes a lot to be a member of USI's team.
"To join the team, you need heart, effort, skill… and be willing to take a hard hit," Rheinlander said.
The team will compete in two away games — one at 5 p.m. Friday at Quincy University to take on the Hawks and another at noon Sunday at Truman State University against the bulldogs.
Bradie Gray contributed to this story.