"V"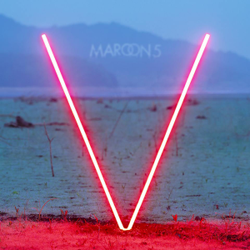 Maroon 5 seems to be everywhere I turn nowadays.
From the radio to television to rocking out a live outdoor performance on the MTV Video Music Awards, the six-member band makes their way into the homes and cars of listeners all over the world.
Their latest album "V", which released Aug. 29, only bolsters the well-deserved attention the band has received.
"V" is the bands fifth album since their debut album, "Songs About Jane," dropped in 2002. "V" takes on a more soulful sound in comparison to its last three albums, which were comprised mostly of catchy pop songs.
The album begins with, "Maps" and "Animals", which are also the first two singles. These two seem to be the only songs on the album that follow the "pop" trend, with fast paced beats and catchy lyrics.
The rest of the songs on the album such as "Unkiss Me" and "Leaving California" reveals the kind of soul and emotion that can be heard on "Songs About Jane."
The most surprising song heard on the album is the bands cover of "Sex and Candy," originally released in 1997 by the alternative rock group Marcy Playground. Maroon 5 doesn't change much about the #8 Billboard Hot 100 song besides the voices singing it. Of all the bands who have tried to recreate the song over the years, Maroon 5 does it best with its jazzy rendition.
The band even teamed up with Gwen Stefani for the album's last track, "My Heart is Open". The ballad shows off lead singer Adam Levine's smooth voice that never seems to leave falsetto. The two seem to be singing to each other about not "needing time to find another love" in what is, in my opinion, the best song on the album.
"V" is no "Songs About Jane," but it does make a successful attempt at leading the band back to their roots and leaving the pop tunes behind.