Men's soccer kicks it into high gear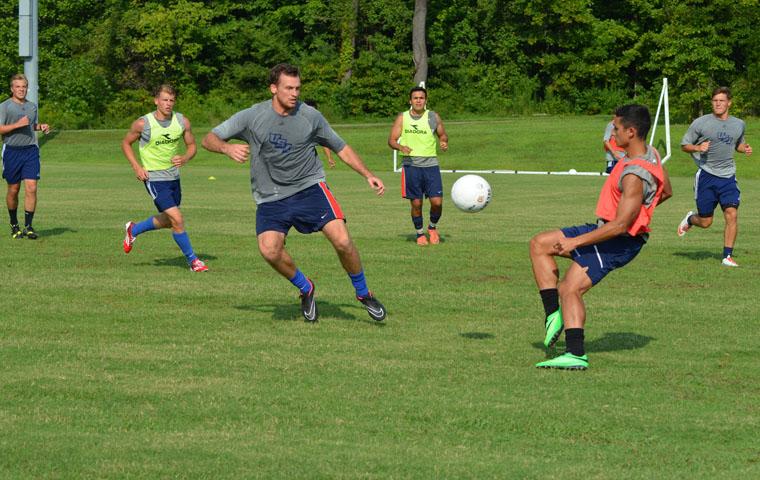 The Men's Soccer team does one week of daily training camp before classes begin, which consists of weights, speed and agility training.  Now that classes are back in session, the team practices once a day and is limited to a total of 20 hours of training per week.
"I feel really great about our talent and leadership and our incoming freshmen," said Head Coach Mat Santoro.  "We are playing in a tough conference, but we should be able to compete at every game."
Santoro isn't the only one confident in this year's team. The seniors are also excited for what they plan to accomplish.
"In the past, we relied on one or two scorers, but it's different this year," said Caleb Mathers, senior business administration major and forward. "You'll see a lot of goals from all around."
Mathers credited USI's talented men's team to the recruiting style the coaches use.
"In our conference, a lot of recruiters are looking for strong guys. Our recruiting style is different. We recruit technically skilled players versus power," Mathers said. "We pride ourselves on the way we're supposed to play soccer. We focus a lot on our ground game."
John Rohling, a fifth year senior finance major and defender/midfielder is confident in the team based on how they play compared to other Division II teams.
"We play intellectually with a fast paced ground game," Rohling said. "We have the most talented incoming freshmen than we've had in a while."
The team placed ninth in the Great Lakes Valley Conference in 2013 and is projected to place ninth again this year.
"I believe we are better than that and it's up to us to prove we are and do the job," Santoro said.
USI has won 10 GLVC  titles. The last win was in 1991.
"I hope to bridge that gap and bring some of that history into the present," Santoro said.
The University of Indianapolis men's soccer team was projected to win the 2014 Great Lakes Valley Conference Championship.  They received eight first-place votes and 213 points in the preseason poll.
Quincy University, Rockhurst University, Lewis University, and Drury University grabbed the top five spots based on votes and points earned in the preseason poll.
Damien Burge contributed to this story.