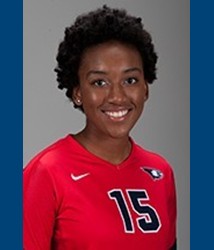 Te'Ayla Whitfield joins just three other freshmen on USI's 2014 Women's Volleyball team.
This 5'10'' middle hitter from Fort Wayne will join the rest of the volleyball team for their first game of the season 11:30 a.m. Sept. 5 in the Physical Activities Center against North Alabama University.
The team will have 13 home games and six away games before the GLVC/GLIAC Crossover. The team will be USI's first athletic team to compete on the new floor.
The Shield sat down with Whitfield to discuss her growing volleyball career.
The Shield: So far, how different is college athletics compared to high school?
Whitfield: From what I've seen at practice, it's a little bit more disciplined and competitive.
The Shield: How long have you played volleyball competitively?
Whitfield: Six years.
The Shield: Have you always planned on playing volleyball in college?
Whitfield: Yes. I really love the game and I like the energy it brings.
The Shield: What made you choose USI?
Whitfield: I really like the campus and the team made it seem like they were all family. They are all best friends with each other.
The Shield: How does it feel knowing you will be a part of the first team to play on the new PAC floor?
Whitfield: It actually feels really nice. It'll give us the opportunity to show off a little bit.
The Shield: Sports Related or not, what excited you the most about beginning your freshman year?
Whitfield: Definitely volleyball. I'm also excited to meet new people and being independent.
The Shield: What scares you the most about beginning your freshman year?
Whitfield: Nothing really, besides finding my way around campus.
The Shield: How do you feel you have grown since starting practice with the team?
Whitfield: I've grown a bit. Right now we're learning new techniques and they require a lot of discipline and hard work to learn.