USI coaches join ALS bandwagon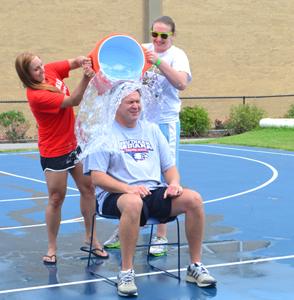 Women's Basketball Coach Rick Stein and Men's Basketball Coach Rodney Watson took part in an icy trend last Aug. 22 in front of a crowd of giggling student athletes.
From Michael Jordan to Oprah Winfrey people can be seen all over the country pouring ice water on their heads and videotaping it.
The craze, as many know, is the ALS Ice Bucket Challenge, which involves nominated individuals pouring ice water on their heads, filming it, and posting it to social media within 24 hours of being nominated.
If an individual does not participate in the challenge, they must donate $100 to the Amyotrophic Lateral Sclerosis (ALS) Association. If they accept the challenge, the donation can be under $100 but must be made within 24 hours of being nominated.
Watson joked to the crowd that his son, Zach Watson, was kicked out of the family for making him pour ice water on his head.
"I had a couple of nominations," Watson said. "I was nominated by Zachary Watson, a member of our basketball team and former member of my family, and Tim Ethridge from The Courier & Press."
Watson nominated USI's Baseball Coach Tracy Archuleta and the Fake Coach Watson twitter account.
Both Watson and Stein agreed that the Ice Bucket Challenge has done a good job of raising awareness.
"It's just outstanding, and of course anything we can do to help the cause, we're going to be there for it," Stein said.
Stein nominated Athletic Director JonMark Hall and Senior Women's Administrator Alex Eaton.
"This is awesome. I've never seen anything raise so much awareness," Watson said. "This thing has really been impressive. It has happened very quickly all over, so it's really a neat way to raise awareness for Lou Gehrig's Disease."
The Athletic Department plans to bring the teams together to make a donation to Amyotrophic Lateral Sclerosis (ALS.)
ALS, also known as Lou Gehrig's Disease, is a neurodegenerative disease that affects the nerve cells in the brain and the spinal cord. The degeneration of these motor neurons eventually leads to their death. When motor neurons die, the ability of movement is lost. Patients of ALS may eventually become paralyzed.
The ALS Association has raised $79.7 million for Lou Gehrig's Disease since July 29.