Screaming Eagles win national title, thank faculty for support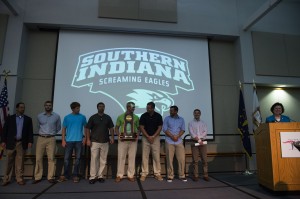 The baseball team started its summer with a victory, snagging the NCAA Division II national championship May 31, for the second time in program history.
President Linda Bennett surprised faculty during the fall faculty meeting Tuesday morning by inviting seven players and Head Coach Tracy Archuleta to the stage in Carter Hall.
Outfielder Brad Wannemuehler spoke to the crowd, thanking professors for their hard work and support during the school year.
"I was blessed to have professors that weren't only passionate about their own work, but were understanding and fully supportive of my athletic commitment," Wannemuehler said to the crowd. "I know it's not always easy for you as professors to accommodate things, especially with our crazy travel schedule in May."
Wannemuehler came to USI in the fall of 2010, right after the Screaming Eagles won its first national title against UC San Diego.
"I came here with a dream," he said. "When I left, I, too, wanted to have a national championship ring."
Three years went by, and still no ring, he said.
"I was beginning to think, you know, it just seemed impossible," Wannemuehler said. "And then we have a group of guys who were able to do it my senior year."
He thanked his coaches and his teammates for standing behind him.
"We shared one common goal," Wannemuehler said. "We believed at the beginning of the season, when we came in in August, that we had the group to do it."
"All of sudden, we were right where we wanted to be in Cary, North Carolina," he said. "Nine long days later — four wins later — we were national champions."
USI battled Colorado Mesa in an intense game for the national title. The teams were tied 2-2 in the top of the 12th inning when Senior Infielder Matt Bowles drew a one-out walk to push across the go-ahead run.
"I am very very proud of our guys," Head Coach Tracy Archuleta said. "We couldn't be more fortunate and blessed."
Archuleta was very confident in his team going into the tournament.
"Going in, I just wanted to make sure we took care of the first game and I knew that after the first game, we could win the whole thing," he said.
Archuleta said every single one of the baseball players played their part, whether it was in the dugout or on the field.
"Even the guys that didn't play helped every chance that they could," he said.
Ben Wright played his part in the tournament, keeping the Eagles in the game by blanking out Colorado Mesa for 5 straight innings.
"I decided not to think," Wright said. "I went in there thinking it was just another game because I didn't want to over think it."
Wright, much like the rest of Evansville, felt immense pride that night.
"Every time I get asked (how it felt), I can't put it into words," he said. "Every emotion that you've felt from t-ball to high school to that night goes through you."
Wright plans to carry the success of last season to this season by not being satisfied.
"My advice to the new guys is to be hungry and to the returning players — keep working," he said.
Evansville Mayor Lloyd Winnecke declared June 2, 2014, "USI Baseball Day".
James Vaughn contributed to this story.