University breaks ground on Griffin Center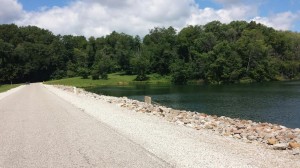 Another addition to the USI campus is underway.
The university broke ground on a new conference center July 21, after receiving a $5 million donation from Bob and Judy Griffin.
Construction of the $5.75 million Griffin Center is scheduled to start in October. It will overlook Reflection Lake on the southwest side of campus.
"I think it's going to be a wonderful addition to the campus," said Gary Burgdorf, construction administrator.
"The parking lot will probably be the very first thing that we put in and then we will use the parking as that laydown area for assembling the materials that would then become the conference center."
The Bent Twig trail will remain in place.
"The trail will skirt the western edge of the parking area and then the western edge of the building and continue on into the woods," Burgdorf said.
He said there are some features that will make the building distinguishable from the other buildings on campus.
"The side of the building that faces the lake has a lot of glass in it, so you'll be able to literally look across the lake and see the campus," Burgdorf said. "I think it's going to be a pretty interesting picture and at night, I think it's going to be a real nice picture of the campus."
The other $750,000 came from the university's parking and transportation reserve.
The 12,700 square-foot Griffin Center is expected to be a one and a half year project and will host Board of Trustees meetings, the University Foundation directors, college advisory meetings and other meetings that currently take place in the UC complex.
"It's almost impossible to book a room in the University Center unless you have booked it months in advance," said Mark Rozewski, Vice President for finance and administration. "We are really short of places for different groups to come together."
Rozewski said this building is needed on campus.
"I think people will enjoy using it," he said.
The Griffin Center will include a 2,400 square-foot meeting room that will accommodate approximately 150 guests. It will have other meeting spaces, breakout areas and Food Services support facilities. It will feature a large canopy allowing outdoor gatherings and a floor-to-ceiling window facing Reflection Lake.