Mobile thrift store visits campus
Hang on for a minute...we're trying to find some more stories you might like.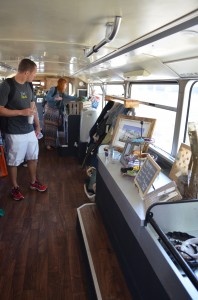 Kaitlin Clawson, an exercise science major, and Nate Sanders, a pre-nursing major, comb through thrift store items inside the double decker bus parked on campus Tuesday afternoon. The Red Bus Project aims to raise awareness about the needs of orphans as well as the funds to help support them. It is a college program for Show Hope, an organization that provides grants to families who want to adopt children. Students could purchase clothes, donate clothes and sign up for orphan trips and internships. According to the project's website, it has raised nearly $50,000 since its launch in 2012. The bus, which travels from college to college, was on the campus of Indiana State University Wednesday. It will be at Illinois State University today.