Craft series part four: Beer festival highlights brewers' success
Roberto Campos
April 16, 2014
I find myself driving on West Tapp Road in Bloomington, Ind., a small two-lane country road located in limestone country, which probably receives little traffic except for days like today – the day of the Bloomington Craft Beer Festival (BCBF).
It's a sun-drenched Saturday, and my car windows are rolled down as I pull up to Woolery Mill, a closed, historic limestone mill that serves as locale for the festival. That's when I catch a glimpse of the bumper-to-bumper traffic.
Taxis, cars, trucks and hundreds of people are eagerly lined up with one purpose: to converge on the mill and experience a craft beer festival.
The mill looks as if it ceased operations over half a century ago. This robust building is slowly being consumed by rust and casually populated by missing windows. It has played host to other events such as weddings, but for some reason seems appropriate for a craft beer festival.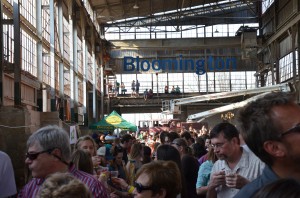 A big crowd and a plethora of craft beer
I glance at my Doc Martin boots, which now have a gray hue to them due to churning up dust from the rocks that line the ground at Woolery Mill, when a loud voice from behind says in a friendly tone, "Keep it moving boy. There's craft beer to be drank."
I pass a sea of families, lovers, friends, colleagues – it seems as if every tax bracket was represented at the festival – with the intent of enjoying craft beer.
The Fourth Annual BCBF took place on Saturday and recorded its first sellout in its history with 3,300 in attendance, said Lee Smith Executive Director of Brewers of Indiana Guild (BIG).
The festival, founded by BIG and several local Bloomington microbreweries, showcased more than 150 beers produced by 50 different microbreweries, most of which were Indiana breweries.
"We had breweries from all corners of Indiana and they all converge on this town of Bloomington in this piece of history unique to Southern Indiana, and it really is just a celebration of craft beer and all things local," Smith said.
Nick Ostergaard, a first time attendee of BCBF, was surprised how easy it was to try any beer at the festival and move about, due to Woolery Mill's size in comparison to the amount of festival goers.
"I got to try every single thing that I wanted to try. Everybody was polite. It was a great atmosphere," Ostergaard said. "But meeting the brewers, the people that are actually brewing the beer for you, it adds a personal touch and makes you want to come back to them. When you're at a restaurant or a different bar, that's the beer you want to get because you meet them at one of these places."
The interaction between brewer and beer drinker is a quality which the brewers themselves also enjoy.
"For our brewers to meet and talk with, and really have an interaction with the people that are drinking their beers, it means the world to them," Smith said. "They're not the guys typically serving the beer. They're back in the brewery. … (The experience) inspires them as they decided, 'What I am going to create next?'"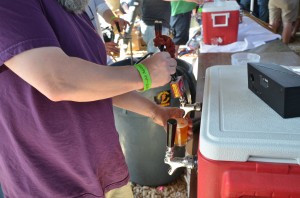 Representing Evansville
Fred Hillenbrand, brewery representative for Tin Man Brewing Company, smiled between each of his sentences.
"We love representing Evansville at an event like this," Hillenbrand said. "Evansville had a rich brewing tradition, and now it seems like it's coming back and hitting strong, and I'm really proud of it."
All three of Evansville's microbreweries, Carson's Brewery, Tin Man and Turoni's Pizzery and Brewery, attended the BCBF.
While Turnoi's has been established since 1996, Tin Man and Carson's have recently come into fruition at a time when the craft beer industry is booming.
More than 400 breweries opened its doors in 2013, 304 of which were microbreweries like Tin Man and Carson's according to the Brewers Association.
"We've only been open for about 16 months now. We're new, and it's fun to show how we've changed since we opened," Hillenbrand said. "Tin Man, Carson's, Turoni's – we have a good little niche here at the festival."
Representing Evansville, as a brewing community, is something that is important to brewers and a fact they represent when they travel to various festivals.
"It's a very big thing that (Carson's) does. Everybody that comes by our stand, we try (to) let (them) know that the beer is from Evansville," said  Zac Rascher, Carson's business manager. "It's just about letting people know that we're from Evansville, and that we try to produce great beer."
BIG hosts three annual craft beer festivals. Its next festival, the Indiana Microbrewers Festival, is held in July in Broad Ripple, Ind.