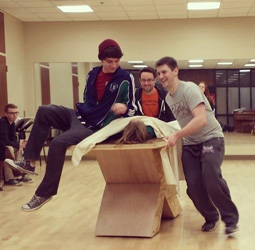 Starting with just another day in a "normal" family household, the approaching USI Theatre production, "Next to Normal," follows the transformation of a woman who, while undergoing therapy and appointments, realizes she misses her normal life.
"A tissue box is an absolute necessity," Craig Belwood said.
The freshman theater major will be playing the role of Gabe in the upcoming production.
Belwood said the musical has "all in your face" internal and external emotions which run high throughout the entire show.
"Everyone knows someone who has gone through something like this," Belwood said. "It's very relatable."
The musical is about a nuclear, suburban family coping with the effects of their mother's mental illness and depression over the span of seven months. It also deals with several other adult themes present in many people's lives.
"The general message is that there is light at the end of every day," Belwood said. "Keep moving and be glad you are alive."
Assistant Professor of Theatre and "Next to Normal" Director Eric Altheide calls it one of the most important musicals written in the last 20 years.
"It faces issues honestly. There is no sense of protection in the musical. Life kind of sucks sometimes," Altheide said. "We have to do the best we can to get through it and make our lives next to normal."
The show is set during modern times so the set and costumes have a contemporary appearance – all of which are student designed.
"The set has a very modernistic feel," Altheide said. "The two parents are architects so their house is very sleek."
Actors Equity Association members Matt Raftery and Erin Parker will be joining the student cast and playing the roles of Dan and Diana, the father and mother of the family.
The Actors Equity Association Matt and Erin are part of is a labor union that represents those involved in live theatrical performances.
"As they are professional actors, they are fearless, and I think they were an inspiration to the student cast," Altheide said.
The musical features a seven-piece band with rock and string instruments. The music plays almost completely throughout the show, only stopping for short periods of time.
"This is the last show we will perform before moving to the new theater," Altheide said, "We wanted to show what we could do."
The play goes from Friday until April 13 with no show Monday.
The shows start at 7:30 p.m. except Sundays, which are at 2 p.m.
Tickets cost $12 for USI students, $18 for adults and $16 for seniors (60 years or older) and non-USI students.