SpringFest committee snags 'All Star' band (VIDEO)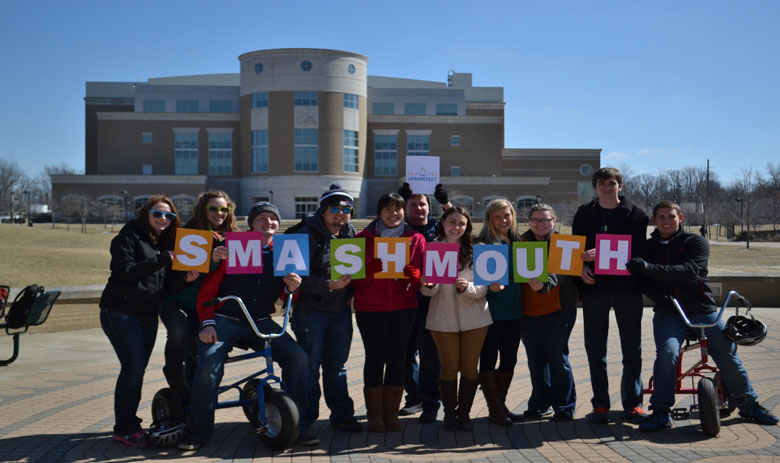 Rumors spread – from J.T. and Beyoncé, to Maroon 5, to the Plain White T's. A Sonny and Cher reunion was even joked about. But the USI SpringFest Executive Committee thought the "throwback" genre would suit more students.
So the committee – a body of 10 to 15 students – in conjunction with the University of Evansville and the Ford Center, selected an "All Star" band.
Smash Mouth will kick off the return of SpringFest with a performance April 11 at the Ford Center downtown.
"In the past, students would know one or two songs and then they would be disappointed because they didn't know more of it," said Nick Mathis, committee co-director. "This fit very nicely into our throwback option."
The band, famous for the 90s hits "Walkin' on the Sun," "Can't Get Enough Of You Baby" and a cover of The Monkee's classic "I'm a Believer," which was featured on the Shrek soundtrack, Smash Mouth continues to perform at small venues.
"We wanted to do something that had never been done before," said Jenny Wittstock, Student Development senior program adviser.
"I was excited to hear we would have somebody most students would know," Co-Director Collen Schenk said.
The offer went out two weeks ago and was finalized Friday.
The university reserved 1,000 floor seats. Tickets will go on sale Monday in the USI Campus Store and on the store's website.
"We wanted to give students that 24-hour access," said Associate Provost for Student Affairs Marcia Kiessling, who oversaw the committee.
Students can buy one non-student a ticket. Tickets will be on sale at the Ford Center's box office, too.
Students can pay with cash, check, credit or debit, but may not use their student accounts.
"As long as you're not using munch money, you should be OK," Mathis said.
The main act cost $35,000, with USI's chunk coming from student fees.
Love and Theft – a country music band famous for the songs "Angel Eyes" and "If You Ever Get Lonely" – will open the show.
Kiessling said the university plans to offer transportation to and from the Ford Center, but the service will not be offered to non-students because of liability issues.
The committee was formed last spring and members spent the academic year shuffling through artists, five of which fell through due to a scheduling overlap with the Coachella Valley Music and Arts Festival in California.
Students and the public reacted following the announcement Wednesday on the Quad. Join the discussion – tweet using #USISpringFest and take our poll.
IF YOU GO:
What: SpringFest Concert, featuring Smash Mouth and Love & Theft
When: 8 p.m. Saturday, April 11, 2014
Where: Ford Center, 1 SE Martin Luther King Jr. Blvd. Evansville, Ind.
Tickets:
Students – $5
Non-students – $10
*Tickets can be purchased at the USI Campus Store or online @ http://usibook.usi.edu/home.aspx.