Poetry bout puts two writers in battle of words
Roberto Campos
February 11, 2014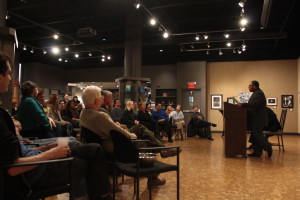 On a chilly Friday evening in downtown Evansville, an audience sat silently in the Bower-Suhrheinrich Foundation Gallery, hooked on every word as they listened to poetry spoken from the source of its creation.
"I curl into a ball on our shag brown carpet and stare at his wall of LPs," Marcus Wicker, said. "Breakfast folds into lunch before I move an inch. When supper rolls around I am shaking. This is how jazz begins. Out of hunger."
The section of this poem titled, "Everything I Know About Jazz I Learned from Kenny G," was one of the many poems recited at the first-ever poetry bout between Wicker and Mathew Graham.
The poetry bout, presented by the Art Council of Southwestern Indiana, featured published USI English Professor Graham and Assistant Professor of English Wicker.
The rules for this bout were simple.
The audience would draw topics out of a stainless steel bowl that circulated the room throughout the course of the night. Instead of fisticuffs, the poets would "fight" with words from poetry they had previously written that fit the topics.
"(An event like this) shows you the depth of language and how interesting it is," Graham said. "This was very encouraging to me as a writer because it felt like it worked really well and makes me want to continue to do what I do."
With offices next to each other and mutual respect, the colleagues had always desired to put on a poetry reading together.
"USI Magazine published this piece on us – sort of paired us as we were something completely different," Wicker said. "(USI Magazine described us as) the old and the new, the age and the fresh, so we decided to put on this event and do something similar to (the comparison)."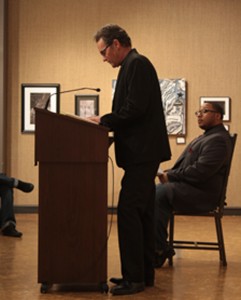 With the contrast of style, both poets met prior to the event to decide what topics they both had in their books. This was to allow one another flexibility in their poem choices. Subjects such as masculinity and love were among the topics.
"Marcus and I are totally different poets but I think the (poetry bout) jived pretty well. When I was listening to Marcus's poetry, all I wanted was to go home and write," Graham said. "The presentation of the event was light hearted, but I think the subject matters were serious."
Once the last poem was recited, the once silent art gallery erupted into clapping as the poets took their bows.
"To see poetry performed is a completely different experience from reading it," said Sarah Dowker, senior English major. "The experience you get from reading it is very personal and to see it performed by the authors is almost romantic, very inspirational."
Graham has published three books of poetry, his most recent book is titled "A World Without End." Some of his work can be viewed on the website Poem of the Week.
Wicker has published one book of poetry entitled "Maybe the Saddest Thing," and works of his can be found on his website marcuswicker.com.
"Poetry can literally teach you to live better," Wicker said. "As soon as I sit down it is sort of cathartic. The process helps me get things off my chest, but also make sense of the world. It is the way I best make sense of the world, and I think it has that potential for everyone."