A YEAR IN REVIEW: University highlights for 2013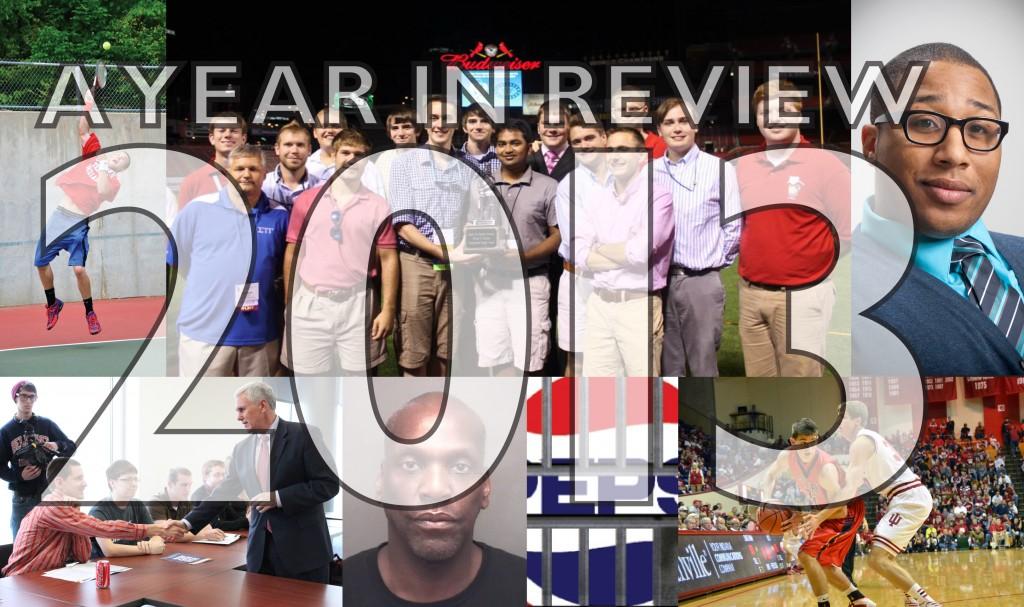 #1 Fraternity experiences ups and downs
Sigma Tau Gamma fraternity received its charter during the Webb Academy National President's Lunch Jan. 4, 12 years after the chapter's alumni shut it down.
But on Sept. 29, Indiana State Excise Police arrested 31 people for underage drinking at 3240 Five Dollar Road, a house rented by Sigma Tau Gamma fraternity members.
#2 Marcus Wicker nominated for national award
Marcus Wicker was nominated for an NAACP Image Award for his poetry book "Maybe the Saddest Thing."
The assistant professor of English traveled to Los Angeles Feb. 1, for the award show, which aired live on NBC.
#3 USI guest director arrested for drug possession
Gerald McIntyre, 51, pleaded guilty to possession of cocaine and possession of marijuana in Vanderburgh County Superior Court Sept. 5.
The former USI guest director received an 18-month sentence for possession of cocaine, a class D felony, and a one-year sentence for possession of marijuana, a class A misdemeanor. Both charges were suspended, contingent upon his completion of drug abuse probation.
McIntyre was hired by the university last spring to direct "Twilight: Los Angeles, 1992."
He was arrested Feb. 5, at his on-campus apartment after a United States Postal Service inspector became suspicious of a package he was delivering to McIntyre.
#4 Governor Pence visits campus
Governor Mike Pence visited USI for the first time Feb. 5, to talk to a class about higher education, among other topics. Pence visited a personal selling class and answered questions after meeting privately with President Linda Bennett. "I was anxious to get down here," Pence said. "I've known of the reputation of USI for some time. It's a tremendous asset for all of Indiana and the Midwest."
#5 USI/KWC rivalry ends after 37 years
When the final buzzer sounded after No. 19 Southern Indiana defeated Kentucky Wesleyan 71-55 at the PAC March 1, it signified not only the end of the game and regular season, but also the end of a rivalry. With KWC leaving the GLVC after this season for the newly created Great Midwest Athletic Conference (GMAC), last week's game marked the final time the two local rivals will meet in the regular season after 86 total meetings, dating back to their first game in 1976.
#6 Tennis Team advanced to Sweet 16 for first time
The USI men's tennis program has won six GLVC championships, including a title this season, but never before had the program reached the Sweet 16 of the NCAA Tournament. No. 40 USI (17-4) made history as the program's first to make it to the Sweet 16 with a 5-0 win over No. 34 Ferris State (16-6), propelling the Eagles to the Sweet 16 in Surprise, Ariz. "It's just great – first time in school history," said USI Head Coach Chris Crawford. "For the seniors, there is no better way to go out than this."
#7 USI launches capital campaign
USI announced it was moving into the public phase of a $50 million capital campaign called "Elevating Excellence." Ron Romain, USI Board of Trustees member and chair of the campaign, said the $50 million, which has a goal to be obtained by December 2015, will go toward a variety of things for the university, including completing its strategic plan.
#8 SpringFest canceled, to return in 2014
SpringFest, the music festival held by USI that began in 2002, was canceled in 2013 after Tim Beucher, director of career services and the man who organized SpringFest every year, retired in December.
Provost Ron Rochon said the university was going to take the time to reassess SpringFest.
It will return in 2014 with a concert, which will be held at the Ford Center.
#9 Black sorority debuted on campus
Alpha Kappa Alpha Sorority, Inc. (AKA) charted a new chapter on USI's campus April 21. AKA, which is the oldest Greek-lettered organization established by African-American college women in the United States, welcomed 12 USI students.
#10 Enrollment falls below 10,000
Enrollment dropped again at USI, falling below the 10,000 mark for the first time since 2007. The number of students enrolled this fall is 9,908 – a 5.4 percent decrease from last year.
#11 Engineering Center opens its doors
The Applied Engineering Center opened its doors Sept. 13, following a ribbon-cutting ceremony for the facility, which features equipment found no where else in the United States. The 16,226 square-foot manufacturing center is one of only two labs in the entire world equipped with German Festo technology.
#12 Fountain drinks garner restrictions
Pepsi machines moved behind the counter and Coca-Cola machines got smarter. Because Coca-Cola is willing to pay more, it will have more of its products sold on campus. Coca-Cola will give $119,000 to the university per year, while Pepsi has agreed to $12,500. The university also hired ValidFill to remodel USI's fountain machines, which now only fill cups that have electronic chips on the bottom. The university lost a reported $90,000 per year from drink theft.
#13 USI fell to Indiana, Tennessee
Southern Indiana men's basketball team fell in both of its exhibition games against Indiana and Tennessee, but the Eagles's program made the most of its two trips. The beneficial qualities of the exhibition contests weren't just noticed on the court, but in the pocketbook as well. The men's basketball program earned $10,000 in guarantees for each game, agreed upon before the contest by both IU and UT.