Q&A with Stephanie Carpenter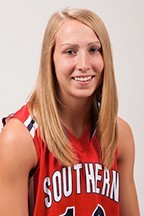 Stephanie Carpenter is a senior guard for the Southern Indiana women's basketball team. Carpenter, a Salem, Ill., native, and a pre-criminal justice major currently leads the Great Lakes Valley Conference (GLVC) in three-point field goal makes while sitting in the top 25 in NCAA Division II three-point field goal ranks, currently 22nd. Carpenter scored 14 points in the Eagles's 87-57 win over Bluefield State at the Physical Activities Center (PAC) on Saturday. Carpenter converted 4-9 attempts from the field, while going 2-6 from behind the three-point line, and has been an major factor in the Eagles's 5-1 start to begin the season. Recently, we sat down with Carpenter to ask her thoughts on not only her team and teammates, but USI as well.
The Shield: Coming from Illinois, how did USI become your school of choice?
Stephanie Carpenter: A girl I played with in high school came here, so I followed her pretty much.
TS: What do you like most about USI and the campus?
SC: I like that it's smaller, and I like having the smaller classes.
TS: What is your favorite thing about being on the team?
SC: They are some of my best friends, just the whole chemistry of the group. We have some good times.
TS: What is it like being a senior on the team?
SC: Kind of sad, I'm not ready for it to be over, so I'm trying to make every moment last.
TS: How has your role on the team changed from your freshman year to now?
SC: I feel like I have more responsibility. I need to make sure that the team is ready to go.
TS: What do you plan on doing after graduation?
SC: Still trying to figure that out, maybe FBI, but I'm still not sure.
TS: What do you want to be remembered for?
SC: Being a good teammate.
TS: What will you miss most about being on the team?
SC: I'll probably just miss the team the most. I know we will stay close, but it won't ever be the same.
TS: Any life lessons you've learned with being a part of the Eagles?
SC: It has taught me how to handle failure. You got to learn from it.
TS: Has being a part of a team helped you grow as a person?
SC: Definitely. It has made me work on a lot of things. I have anger issues, so they are making me work on those.