Jones ready to play after shoulder injury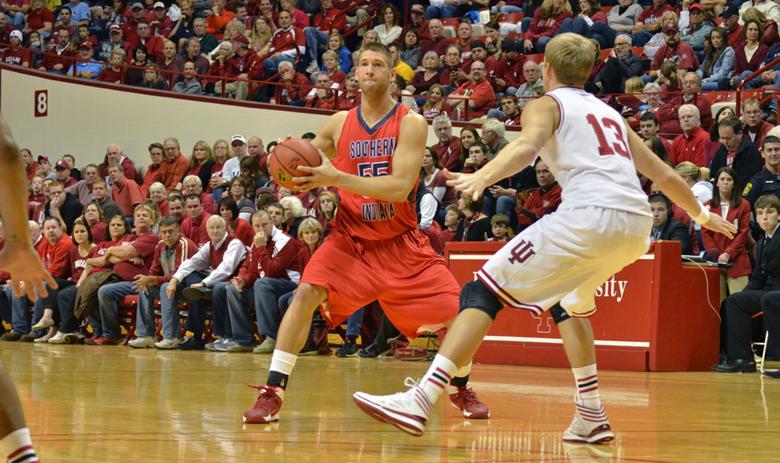 Jessie Hellmann
November 22, 2013
Southern Indiana men's basketball forward/center Chuck Jones is looking forward to being back on the court after his season-ending shoulder injury last year.
"It feels great to be back," Jones said. "I'm just excited with all the pieces we have, and I'm ready to get on the floor."
The 6-foot-9, 250 pound senior landed himself on the bench seven games into last season after experiencing a torn labrum.
A transfer from Madisonville Community College and Western Kentucky University, where he didn't participate in athletics, Jones now faces his last year of eligibility and wants to make the most of it.
"It's a good time to give it all I got and not hold anything back," he said. "Leave everything on the floor every night and go out this year with no regrets."
Jones credits a strong rehab staff with getting him ready for the season and he said his shot is completely unaltered.
"(My shoulder) is nice and strong now and healthy," Jones said. "I had a really good staff who helped me every day, trying to get in there as much as possible. I'm still in rehab now, I don't want to quit on it."
One of Jones's goals is to try to win every game.
"I think we have the pieces to compete with everybody and give everybody a good run for it," he said.
USI Head Coach Rodney Watson said Jones worked hard to transition from the bench to the court smoothly.
"He's really worked to get himself back from a torn labrum," Watson said. "Those shoulder injuries are maybe some of the toughest to come back from, but he's doing a great job. He's really picking up what we're trying to do."
Watson said as far as Jones's strengths on the court, being the tallest and heaviest player on the team works out in everyone's favor.
"He's a horse. He's really a big guy, and he can really have a presence in the middle," Watson said. "In college basketball, it's really critical to have big guys that take up space. It makes it tougher for other teams to score in the middle of the floor, close to the basket."
Jones, whose career high as a player is eight points against Virginia at Wise more than a year ago, is also learning how to score, Watson said.
"He's getting baskets at 6-9, 250 pounds that 6-2 guys can't get, so that's a big strength," Watson said.
As far as weaknesses, Watson said Jones needs to work on transitioning up and down the court.
"The game's a fast game, and we got to get him from one end of the floor the other," he said. "He has to stay in sequence with what we're doing."
Watson also said Jones owns the potential to become an even better rebounder.
Jones also contributes to the team by being an all-around good person, Watson said.
"He's just a good person and a team guy. It's never about him," he said. "He wants to do whatever it takes to win. His body language is always proper. He never has an ugly look or questioning look about the players or his playing time, and those guys are fun to play with. When he comes into the game, he appreciates everything he gets."
While Jones comes back from his injury, one other player will be absent from the court for a little while.
Forward/center Austin Davis tweaked his ankle and will be out of the game for an undetermined amount of time, Watson said.
"Timing couldn't be worse for that," Watson said, as the USI men began their 2013-2014 season Tuesday against Kentucky Wesleyan.
"When you're in basketball, you have those circumstances all the time, and right now is his time. Just got to get him a lot of rehab."
Watson stressed the ankle isn't broken and there's nothing structurally wrong with it.
"He just hurt it, and it's kind of sprained a little bit," Watson said. "So we hope to get him back as soon as we can."