COLUMN: River City Sound Travis Thompson
Ariana Beedie
October 31, 2013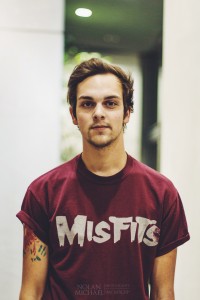 Travis Thompson, frontman of local two-piece band, The Snakes, creates music about an angel of death and the end of days.
"We wanted to make a band completely around the concept that we were the angels of death, and we were telling the stories and travesties about the downfall of the end of the world," Thompson said. "I guess the project started about a year and a half ago."
Thompson, 22, views music from a different angle. He writes short stories about a fictional apocalypse and derives his songs from those stories.
"I've always wanted a comic book and I thought, what if the Ramones and Mad Max had a sweet love child of leather jacket wearing, face painted a**hole," Thompson said.
The Snakes is made up of Thompson and drummer Dylan Woodall.
"We sat down and wrote our first song 'And Then You Left,' which has an entire story about a person that didn't ever want to lose his girlfriend, so he killed her and ate her," Thompson said. "When he ate her, she became a part of his body, and she followed him as a spirit until he killed himself."
The Snakes appear at the last moment in times of distress and they record, like an unseen cartographer, he said.
"We just tell the stories of the people," he said. "We don't initiate or anything like that."
Thompson and Woodall also created a blog to go along with their songs. Each entry follows a story, which has a corresponding song derived from it. Soon, The Snakes will be creating videos to pair with the stories.
"I want it to be a complete story, almost like a rock opera," Thompson said.
It can be a car crash that is "so grotesque," someone can't look away, he said.
"We write a blog to every single song with the actual character names, and we publish them over time," he said.
The blogs are titled after their songs but aren't exactly the complete lyrics. The stories are written first and the songs are derived from them.
Thompson's inspirations include the Misfits, Dead Kennedys, The Kooks and the Dead Milkmen.
"I draw a lot of my stage presence from Jim Morrison. I love acting like him on stage," he said. "I love slamming my head into the microphone and just falling over and just doing all kinds of crazy sh*t."
The point of creating a scene is to take away from the potential boring side of a two-person band, he said.
"We have the margin to be so boring because there's not a lot of sh*t. We can't hide behind it," Thompson said. "We just get out there and do it, or just stand there and look like morons. We're like mad scientists in that way."
The Snakes are building a cult following because of their performance and face paint, he said.
"The last show we played was about 120 people," he said. "Our first show we played at Penny Lane and completely filled the place."
Thompson paints his face to add to the mystery behind The Snakes.
"We paint our faces because The Snakes are not from this world," Thompson said. "We wanted to make sure when we did this band it all followed a weird concept we came up with."
The goal was to not look like real people to those who hadn't seen The Snakes perform before, he said.
"We wanted to look really gross, like comic book characters almost," he said.
The Snakes have only played four shows because they wanted to make sure every aspect of the concept was perfect.
"I didn't want to do anything before it was right. We wrote 'And Then You Left' almost in November of last year and we didn't have our show until a few months ago," Thompson said.
Thompson was an English literature major at USI and has been playing music since age 12. Since the beginning, he's been experimenting with different genres like folk and power pop, trying to find his niche.
"I do what I want more so than anything," he said. "I try not to do what I think other people would want me to do."
Thompson makes music to make himself happy, he said.
"I don't really think about what other people like, I'm selfish in that way," he said.