Greek event to raise funds for charity
Ariana Beedie
October 1, 2013
Students can sink competitors' canoes and donate to charity, all at the same time.
"Don't Sink Your Battleship," a competition sponsored by the Interfraternal Council, gives students the chance to sink another's canoe on Friday.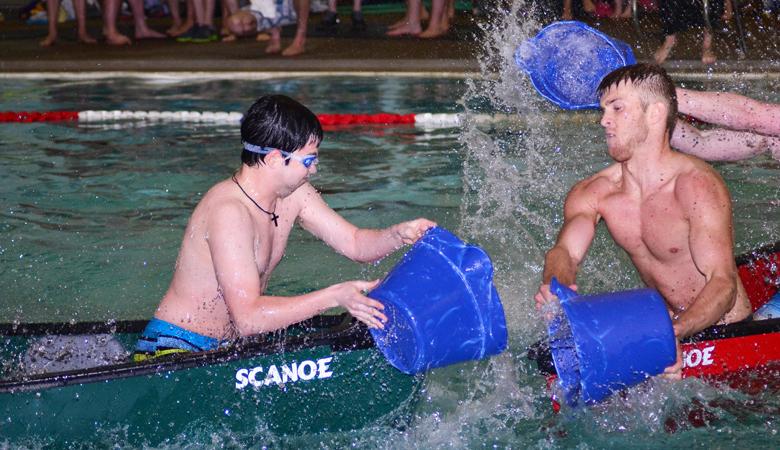 The object of the game is simple: sink the opposing team's boat before your boat gets sunk.
Part of the funds collected at the event are headed to Relay for Life, an organization raising money for cancer research and health education.
Students were able to form four person teams and pay a $20 registration fee the week before the event.
"That makes $5 per person," Alex Martens said. "It's ridiculously cheap."
Martens, Interfraternal Council financial secretary, helped coordinate this year's event after its financial success last year.
"If over 40 teams sign up, 50 percent of the contributions go to Relay for Life," Martens said.
If there are less than 40 teams, 25 percent of the donations are contributed, he said.
Each team has four positions: one person to row and three people to throw water.
The event was such a success last year that it was added into the schedule for intramural sports.
Jordan Shots, executive vice president of programming and philanthropy, said the event was a success in Greek Week.
"Last year it was a huge hit," Shots said. "We would like to see the public at the event, not just Greeks."
Shelby Clements, Alpha Sigma Tau member, participated last year and said the event was intense.
"It was a lot of fun, but more difficult than I thought," the senior biology major said. "This year we're (Alpha Sigma Tau) planning on being there."
It's a good idea to show people how totally different Greek life is from what most people think, Clements said.