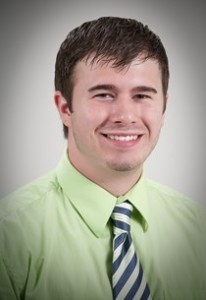 The first legacy recipient of the presidential scholarship is now a member of the USI Board of Trustees.
A political science major from Worthington, Ind., Brenden Davidson said his mother is his role model.
"All my life, she really instilled in me the virtues of discipline, responsibility and hard work," Davidson said. "The lessons I've learned from my mother are the ones I still use today.  That's given me my fundamentals, my solid foundation, and I couldn't do what I am doing today if it wasn't for her."
His mother attended USI. She met his father and had Davidson while she was a student at the university. She was also a recipient of the presidential scholarship.
He said he fell in love with USI the moment he stepped foot on campus.
"The campus was beautiful, the people seemed really nice and the administrators I met were great," Davidson said. "I have a lot of passion for USI and I love representing students. I have the students' best interest in mind, and I think that was the reason I was chosen to serve on the board."
A selection committee interviewed qualifying applicants and chose a select few. The qualifying students' names were then sent to the governor's office, where he made the final decision.
"One of the main reasons why I wanted to do it was because I feel like I've been involved in a wide variety of activities as well as organizations since coming to campus," Davidson said. "That wide range of interest I have I think spreads out and reaches a lot of students."
The valedictorian of his high school class, he is now serving his second term as Lambda Chi Alpha Fraternity President, and this past summer he was elected chairman of the council of presidents for his fraternity, which means he oversees all of the fraternity's presidents on the entire continent. He also serves as a justice on the Student Government Association court.
Davidson said his ultimate job on the board of trustees is to get good information from students and monitor the overall feelings on campus, as well as relaying information from the board to the students.
Davidson said he has always had a passion to help people, but he didn't always want to get involved with politics.
"In high school, I attended Hoosier Boys State and that really sparked my interest, as well as listening to former senator Richard Luger speak at the Richard Luger symposium," Davidson said. "That's when I realized politics had a lot of opportunities."
He is honored to be a member of the board, but likes to see himself as more of a representative than a politician, he said.
"People who know me would say that I may not be the most talented person in every area," Davidson said. "But my effort and my determination are like no other and I'll give everything my best try."
SGA Chief Justice Adam Brothers said some of the issues Davidson will be discussing on the board include the construction of new facilities, improvements to the university and the direction the university is going in terms of degree programs.
"He's a great guy – a tremendous asset to the court," Brothers said. "He's an extremely smart, well-educated individual. He's very level headed,"
Brothers said Davidson is open-minded and is a great fit for the needs of the university. He also said Davidson looks at the issue from every angle possible in order to find the best solution.
"Just because he is a student trustee doesn't put him in any different category than the rest of the trustees," said Ted Ziemer, Board of Trustees Chairman. "He has the same rights and duties as every other trustee."
Ziemer said the other trustees are very pleased with Brenden's appointment, and they look forward to working with him.
Davidson will serve on the board for the next two years.