Local cafe hosts rap show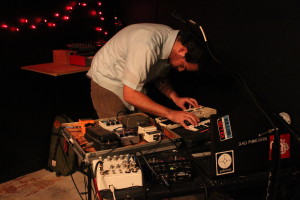 Local venue hosted a rap show Sunday, to showcase local and out-of-state talent.
PG, a small cafe located on Franklin Street, drew a large crowd of people eager to see the show.
Mark O'Cummings a downtown local, was pleased with the show, he said.
"This is what we need in Evansville," he said.
Speed Walking With Seamus, a one-man project, started the show. He was the only musician who didn't perform rap music. Martinez's set was more lo-fi, synth induced music over simple beats.
The music is like lo-fi, casio tone music, he said.
The style came from artists Martinez had been listening to for the past few years.
Martinez just released a 10-track EP "Danzig on Elsewhere Records, Co," which is also his label.
"It's nice not dealing with anyone else. If you f**k up, it's on you," he said.
After a few opening acts, the headliners Blueprint and Illogic took the stage. The rapper-producer duo, traveled to Evansville for their last show on a six-week cross country tour.
"We just drove twelve hours from Minneapolis," Illogic said. "It's been a long tour."
The duo make the Greenhouse Effect. Illogic raps and Blueprint also raps as well as produces.
This event brought out an enormous crowd, one that PG hasn't seen since it's opening. Many local residents were very pleased with the artists, and the turnout.
AJ Ogundimu, 24, found out about the show from his girlfriend.
"I found out about this show when my girlfriend texted me," he said. "I come to PG now and again."
It has a different "vibe," he said.
Along with the local resident response, there was positive feedback from other musicians who came to check out the show.
Justin Sala, frontman of local band Lightmares was in full support.
"There's no better place in town, and no better gig that I'd pay money for," Sala said.
Sala is an avid fan of the out of town rappers.
"Illogic is amazing," he said. "As producers they are some of the best beatmakers."
This is something people of Evansville want to come see, he said.