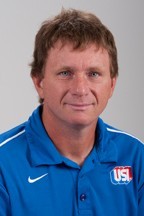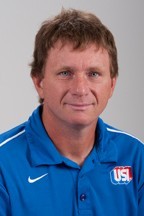 It would have been forgiving if Robert Bennett felt extremely comfortable at his new job.
After all, the recently hired men's soccer assistant has been a fixture in the area since earning all-state honors and winning two state titles for Reitz Memorial High School in the mid-1980s. He was also a captain defenseman for the Great Lakes Valley Conference champions at Southern Indiana in 1990.
But it's not about him anymore.
"What I'm looking forward to most is working with the staff and getting to know the team," Bennett said. "That's the first order of business, is building trust and being a mentor of these young men."
Since his glory days, he has served with the Evansville Soccer Club, and he is part owner of an indoor soccer center in town—both of which allowed him to work with several players currently on his roster.
"There are actually about seven of us," said sophomore defender Lucas Woodford, who played under Bennett with the ESC 18-and-under team. "So, that made him feel more comfortable in getting to know the rest of the guys. But he didn't come on too strong either, which you couldn't have blamed him for doing. You can tell he's made getting to know us his top priority."
Bennett replaced Carl Carr, who now coaches at Hastings College in Nebraska. He will assist fourth year head coach Mat Santoro in all facets of the program. Santoro and Woodford both said Bennett is knowledgeable at any position on the field.
"He's just a great all-around guy," Santoro said. "Obviously, he has the pedigree that I was looking for. But also, he knows our guys and he's worked with players of different age levels, which is important not only from a fundamental aspect but from a player development aspect as well."
The Eagles have been tabbed to finish sixth this season by GLVC head coaches. It returns 21 players and will look to carry its momentum after making it to the conference tournament semifinals last year.
USI will travel to Cedarville on Sept. 5, for a regional matchup before making its home opener against Kentucky Wesleyan at Strassweg Field on Sept. 8.