Adult graphic novel kicks off Ropewalk series
Jake Tapley
August 30, 2012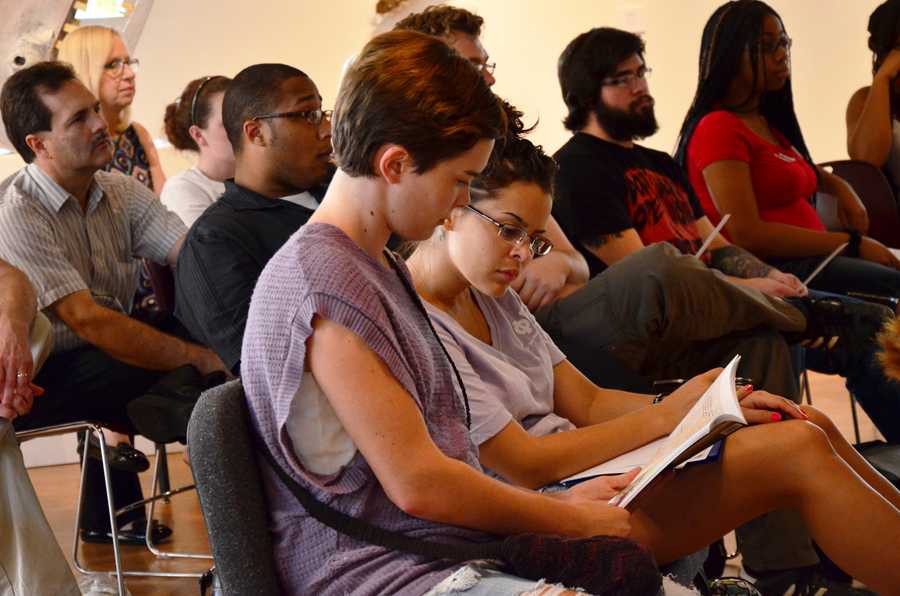 A bird on a gasoline canister, pink hand-written letters – one with a bloody knife on it – and of a hallowed girl with the word "bruise" on her forehead are some illustrations hang around the McCutchan Art Center for the Ropewalk Press Chapbook Contest.
This year's annual Ropewalk Press Chapbook Contest winner is an adult graphic novel "A Man Worthy of Your Attention" by author Janet Freeman accompanied by artwork illustrator Dana Ellyn.
Freeman read her short story to an audience composed of almost 40 USI students and faculty while Ellyn's paintings hung around in the gallery surrounding her.
Freeman's and Ellyn's collaboration formed out of their companionship.
"We had been friends for a number of years," Ellyn said. "She was familiar with my work."
Through back-and-forth Facebook communications and recommendations from Freeman's acquaintances, the two decided that they would transform Freeman's short story by illustrating it entirely.
"I take a lot of my inspiration from the written word," Ellyn said. "And there are so many images in the story."
As a branch of the Ropewalk Writers Retreat, the Ropewalk Press is staffed by USI professors and publishes literary fiction and poetry chapbooks.
This collaboration was something new for both of them. Ellyn said she had painted out of inspiration from a book but she had never painted directly for a book before.
"I was worried I was going to cast her characters wrong (with my art)," Ellyn said. "The process of deciding which ideas to keep and which to throw out was one of the more difficult parts of the collaboration. But after reading her story, I had so many ideas. We could recreate the book 10 times over with all different illustrations."
Ellyn said she had to simplify her artwork for the story.
"I usually spend almost 100 hours on a single piece," Ellyn said. "My pieces are also more, let's say, more controversial, and I had to tone it down."
Junior English major Heather Dickerson said she enjoyed attending the reading for her English 304 class.
"(I think) the illustrations bring the words to life," Dickerson said. "It's very bold."
Sophomore health administration major Tatiana Camacho came for an extra credit opportunity in her humanities class.
"I like how she brought new ideas to the book," Camacho said.
Janet Freeman lives in northern Colorado and has written for radio, newspapers, magazines and Web-based venues, along with writing fiction, and Dana Ellyn lives in Washington D.C. as a full-time artist.
Freeman and Ellyn both said they hope to continue their partnership in future endeavors.
USI English Associate Professor and Ropewalk Director Nicole Reid chose "A Man Worthy of Your Attention" as this year's winner.
"What Dana's artwork brings was explosive and wonderful," said Reid. "It's such a rare thing to find an artist collaborating with an author like this."
Reid said she would like to publish another art-integrated story but didn't know if that would necessarily be the case.
"It would have to be the right project," she said.
"A Man Worth of Your Attention" is the 10th publication of the Ropewalk Press and the ninth publication of an individual work – the first publication was an anthology of the Ropewalk Writers Retreat.
The next Ropewalk reading will be 5 p.m. Oct. 4 with fiction writer Adam Johnson, whose work has appeared in Esquire, Harper's, Playboy, Tin House and Best American Short Stories.