Hypnotist at USI
Men can have babies.
Nicki Minaj performed at USI.
Those are a few things that students who were hypnotized Sunday during the Mind Games show were convinced of.
Certified hypnotist Paul Ramsay took the stage in Carter Hall where he introduced two different audiences to hypnosis.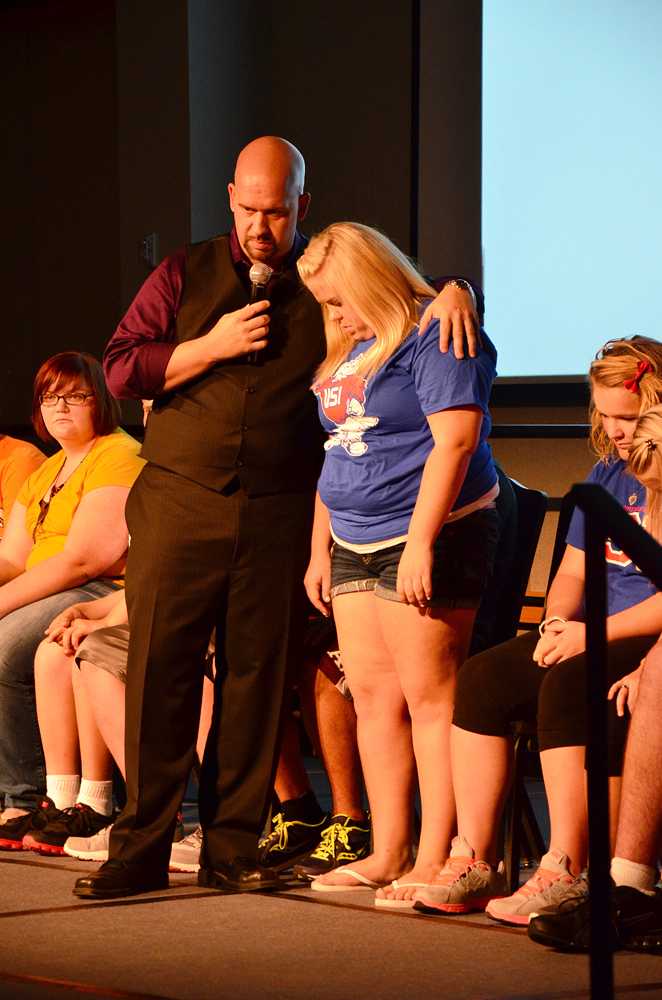 Ramsay became famous for how interactive his show is. Using remote controls, the audience was able to steer the course of the show by voting for what they wanted to see happen.
Ramsay said that it is up to the audience whether or not they allow themselves to become hypnotized.
"What you are seeing tonight is completely real," Ramsay said to the packed house. "This is not a magic show or an illusion or some sort of con. I have been trained in skills and techniques that actually help people shift their brainwaves to a slower and different pattern. But you have to be willing. I can't hypnotize you against your will."
He compared hypnosis to daydreams.
"If you've ever been in class and had a daydream so vivid that even though your eyes are open, you don't see the front of the room anymore, but instead, you see exactly what you're daydreaming about, that is a trance state, which is a form of hypnosis," Ramsay said.
Ramsay told the audience there are a number of things that hypnosis can help with.
"If you are stressed, need to get over a fear, or maybe you want to get rid of a bad habit, hypnosis can help," he said.
To start the show, everyone in the audience had a chance to test their curiosity as Ramsay performed hypnosis on everyone who was willing to give it a shot.
After about five minutes, the students susceptible to hypnosis both forgot their names and made their way to the stage at Ramsay's request. A select few were asked to remain on stage for the duration of the show.
Sophomore Kelsey Wallace was one of those students. She remembers only some of what happened during the show, which lasted about an hour.
"I remember pounding my fists really hard against the floor because they hurt really badly now," Wallace said. "I don't remember why I was doing that though."
She was all smiles during the performance.
"It was so relaxing that it seemed like all I could do is smile," Wallace said. "My face hurts now. I didn't realize I was smiling for that long."
Those who were under hypnosis were shocked to find out what time it was once the show was over.
"I remember walking to the stage, and then in like two seconds, I guess I fell asleep," Wallace said. "I don't know. It was weird, but I would definitely do it again because it's so relaxing. I feel like I could just float away right now."
It took sophomore Morgan Burton a second performance before she was convinced that hypnotisms are real.
"I attended the show last year during Welcome Week. It was a different hypnotist, though," Burton said. "Seeing is believing, and I find it hard to believe that under normal circumstances, those participants would have acted the way they did in front of such a large crowd."
Burton said she enjoyed the format of the show.
"I loved the show, and I would recommend it to anyone," she said. "Paul Ramsey did a great job of integrating the educational and comical side of hypnotism."
USI was Ramsay's first stop on his college tour. He will travel to 11 states to perform 18 shows in 21 days.