Students walk a mile for domestic abuse, sexual assault
Jessie Hellmann
April 11, 2012
When Beth Baro entered her freshman year of college, she met her friend, Sally. Baro did not know it then, but her friend would become subject to domestic violence.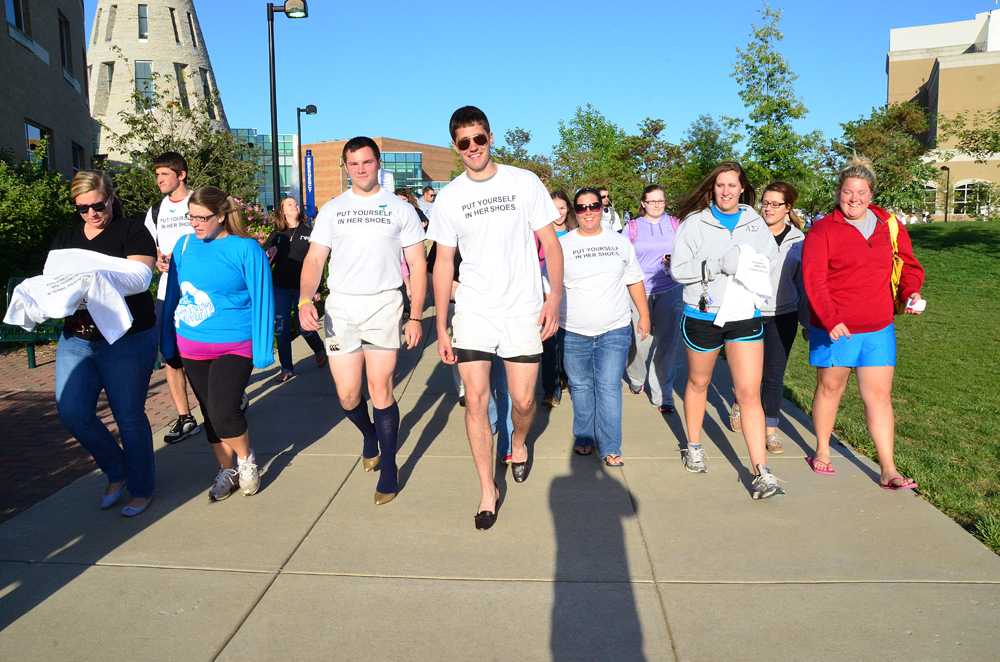 "By the time Sally was 35, she had been married for about 10 years and was dead in a murder-suicide," Baro said.
Baro told her story at the annual international event "Walk a Mile in her Shoes," the men's march to stop rape sexual assault and gender violence, Tuesday afternoon. About 300 people participated in the walk that USI has held for seven years.
Baro said the signs of domestic abuse are not always as obvious as a black eye, and that many of the women she encountered have hidden injuries when Baro met them at her job as the director of the Willow Tree of Posey County, a non-profit organization that provides advocacy for victims of domestic violence and sexual assault.
"I think that domestic violence is able to continue because as a society we just don't discuss it," Baro said. "Your generation hopefully changes things, and hopefully that puts me out of a job."
Brandi Watson, the community outreach program coordinator at Albion Fellows Bacon Center, the group that organizes the walk on campus every year, said the walk gives men a chance to stand up for domestic violence and sexual assault.
"The purpose of the walk is to give men an opportunity to demonstrate that they are a part of ending violence against women," Watson said.  "The march is a visual demonstration that men can participate in to show that they're a part of ending the violence as well."
Several members of the Greek community, the Rugby Team, administrators like Dean of Students Barry Schonberger and Sheriff Eric Williams all wore women's footwear and walked a mile around the Quad to show support for the cause.
Thomas Longwell, counseling center director, also attended wearing a pair of gold flats. He said the purpose of the walk was to encourage become a part of the solution.
"We know the mass majority of sexual assaults are committed by men, and I think that men need to be supportive, and be a part of the solution, and not part of the problem," he said.
Longwell has participated in the walk for the past two years, and said walking is his way of showing support for the students and letting them know there is always someone to talk to at the counseling center.
"We want to support our students that are dealing with and coping with, a very difficult situation for anybody to have to go through," he said. "It's emotionally and physically traumatizing, and we want to be supportive and take care of them and try to make a difference in their lives… Our students at USI are so valuable. To make a difference in the lives of the young people is so important, it's just the right thing to do."