USI students march for Trayvon
Jessie Hellmann
April 2, 2012
In 80-degree weather, about 100 USI students marched around campus in support of Trayvon Martin Monday afternoon.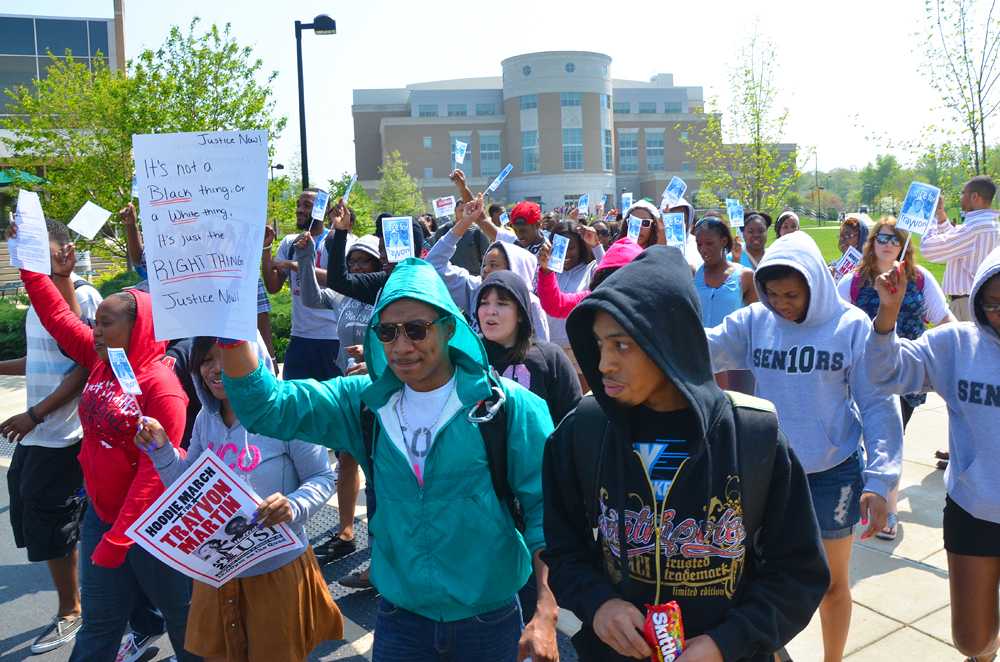 Martin was a 17 year old from Sanford, Fla., who was shot and killed Feb. 26, by George Zimmerman, a neighborhood watch volunteer. Zimmerman told police he killed Martin out of self-defense. Martin wore a hoodie while carrying Skittles and iced tea.
USI protestors shouted "Justice for Trayvon" and "Am I next?" and carried signs showing the young man's face.
"This march today is just to show our support for Trayvon and his family," said Ariel Crenshaw, the junior biology major who organized the march. "There are so many cases like his that justice is not served and is swept under the rug. So, today we are going to march for all of the cases that are just like his."
The group marched through the Quad, by the Forum buildings, the University Center and back through the Quad three times. Several students wore hoodies, like Martin did on the night he died.
Freshman health services and administration major Latrice Hillard wore a hoodie and shouted "Justice for Trayvon."
"I think it's important for a group to get together and support this cause," Hillard said.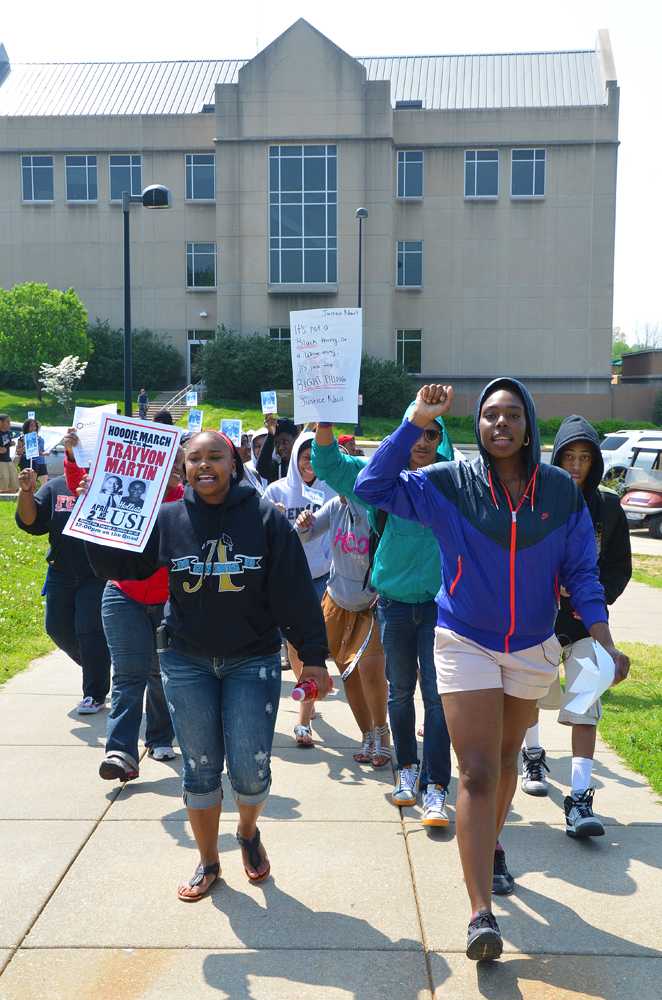 Alexx Wright, freshman sports management major, walked with the group screaming, "Skittles aren't a weapon" because Martin was unarmed and only carried Skittles.
"(I hope students) will open their eyes and see that this stuff happens everyday, and that innocent children like (Martin) do not deserve to lose their life at this young of age," Wright said.
He said he wants students to educate themselves about Martin's shooting.
The Black Student Union President Kurtis Kelley spoke to the group at the end of the protest, and he said the march cannot be the last act of activism for the students.
"Today has to be the first step for us to become activists," Kelley said. "Us signing a petition online isn't enough. Us marching right now isn't enough. We have to keep it going."
He said the Martin killing was a tragedy for everyone, and it is not about a black kid being killed but is about an innocent child's death.
"We're not just citizens of Evansville, Ind. We're not just students of USI. We're not just citizens of America. We're global citizens," Kelley said. "An injustice in Africa, in Europe and Sanford, Fla., is an injustice for you, and you, and you, everybody," he said pointing at the crowd. "It's an injustice for me. What happened to Trayvon Martin happened to me."
There was some opposition to the protest in the form of a man carrying signs and calling the protestors racist.
"Stop the anti-white propaganda," one of the signs said. The other sign said, "No university funds for anti-white hate. Trayvon = no saint role model. Just a ghetto hoodlum."
"I ignore negative energy and attention like that," Hillard said. "So, it doesn't bother me at all. We want justice for Trayvon."