Are you represented?
Jessie Hellmann
February 8, 2012
On April 14, 2011, Student Government Association (SGA) President Jordan Whitledge motioned at a SGA meeting to give $550 to his fraternity, Lambda Chi Alpha. At the time, he was the academic affairs administrative vice president (AVP).
Now he said he should not have voted for the funding, which was used for an event his fraternity hosted that included a giant obstacle course on campus.
"It has been a norm in the General Assembly that if you're voting on something that involves you, you abstain from it," Whitledge said in an interview with The Shield last week.


Whitledge told the General Assembly at the Feb. 2 General Assembly meeting to refrain from voting on things they are involved in.
SGA represents the student body to faculty and administration, and manages an $86,000 annual budget, 65 percent of which is made up of student fees. Of the 34 SGA members, 12 are members of Greek life, making 35 percent of SGA members Greek.
It can be simple for Greek students to become SGA president if elected by a strong, supportive Greek community, and having several members of one group in SGA can blur lines between the two and cause problems when running the government.
USI's SGA Greek count is the second highest of all SGA's at four-year residential schools in Indiana. Indiana State University comes in first with 39 percent.
CAN 'GOING GREEK' HELP YOU WIN SGA ELECTIONS?
Heavy Greek involvement is common in college student governments throughout America, said Butch Oxendine, the executive director and founder of the American Student Government Association, a professional organization that serves and supports university student governments.
Because Greek students tend to be more involved, they may seek SGA positions, easily obtained if a supportive Greek community elects them. The last four out of five SGA Presidents were in Greek life, while their opponents 
were not.
Every spring, the student body elects a president, attorney general, administrative vice presidents, members-at-large and representatives.
In the spring 2010 election, Gamma Phi Beta sister Hope Fussner ran for president, and only 11 percent of USI students voted. Oxendine estimates the majority of those voters were Greek.
Fussner received 56.4 percent of votes, while candidate Kylie White received 27.5 percent and candidate Maria Jailpour-Esfahani received 16.1 percent.
"When (Greeks) support another candidate, they tend to bring their whole house down to vote… 90 percent of Greeks are voting in elections, maybe even higher," Oxendine said.
It's not illegal or unethical for this to happen, but it can give the appearance that SGA is a clique, he said.
SGA President and Lambda Chi Alpha brother Jordan Whitledge said  his fraternity membership didn't contribute to his victory.
During his campaign, he talked to students and different organizations across campus, he said.
"If the candidate wants to work hard enough and get out there to the organizations and talk to the groups, then they can gain support," Whitledge said.
Kylie White, 2010-2011 Research and Development AVP, said running against a fraternity or sorority member in campus wide elections frustrated her.
White lost the 2010 spring election to Hope Fussner.
"When you're running against someone in Greek life, they're more likely to get elected on the mere fact that they know so many people," White said. "Whereas those who aren't in Greek life have a slimmer chance because they usually don't know as many people."
The elections resemble a popularity contest, and she thinks she would have had a better chance of winning the presidential election if Fussner wasn't involved in Greek life.
"'I'm not by any means bitter towards her for winning the election," White said. "She worked really closely with me at the beginning and she was cool about it."
"I was only close (to winning) because I have a lot of friends in Greek life, but it definitely wasn't an easy run," White said.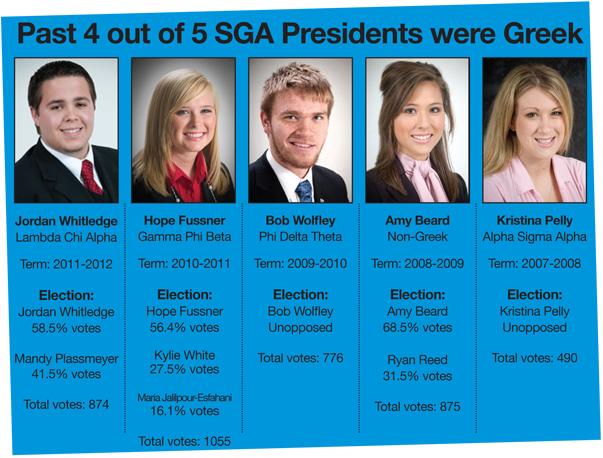 WHEN IS THERE TOO MUCH GREEK INVOLVEMENT IN SGA?
White said the number of Greek life members on SGA is "annoying," but doesn't really make or break SGA.
SGA issues sometimes turn into Greek life issues, White said.
For example, last year Fussner was almost impeached after a grievance form was filed charging Fussner for misuse of power, neglect of duty and intimidation.
At the March 31, 2011 General Assembly meeting, the impeachment motion failed 13 to 7, but a motion to censure Fussner was approved.
"She wasn't doing her job like she should and because of certain factors, what should have been a really quick and simple process for impeachment turned into an extremely long, drawn out one," White said.
She is not saying Fussner was a bad president, but she believes she didn't deserve the presidency because General Assembly members did more than her, White said.
She said the impeachment issue turned into a Greek life issue, too because of Fussner's Greek life membership.
"So many members of Greek life attacked those of us who (supported) the impeachment," White said. "Whether it was members of Greek life saying stuff to our face, in text or email and spreading rumors."
She said Fussner's impeachment meeting should have been a closed to the public, but Fussner's sisters and other Greek life members attended, but they were not allowed to say anything in her defense.
"The presence itself was extremely intimidating as were the fact that so many of them attacked some of us," White said.
If Fussner weren't in a sorority, the impeachment dilemma would have gone much differently, White said.
"Greek life definitely has some sort of priority whether people want to believe it or not," White said.  "I by no means, hate anyone in Greek life, or the concept itself, but I wouldn't say that it's the most fair of processes."
REPRESENTATION
In the Fall Semester, SGA voted to include member-at-large positions for a sorority member and a fraternity member, adding to the already strong Greek influence in the government, but only about 486 students —4.5 percent of the student body- are Greek life members.    SGA represents fraternity and sorority members well, but there are no member positions for other campus groups.
SGA opted to include a fraternity and sorority member-at-large because it's possible for Greek members not to be involved in SGA in the future, Whitledge said.
SGA has discussed adding positions for other clubs and organizations on campus, but nothing has ever happened, Whitledge said, even though SGA's bylaws state representatives from student clubs and organizations make up the General Assembly.
Member positions for student organizations used to exist, but were removed in 2000 because the members had poor attendance.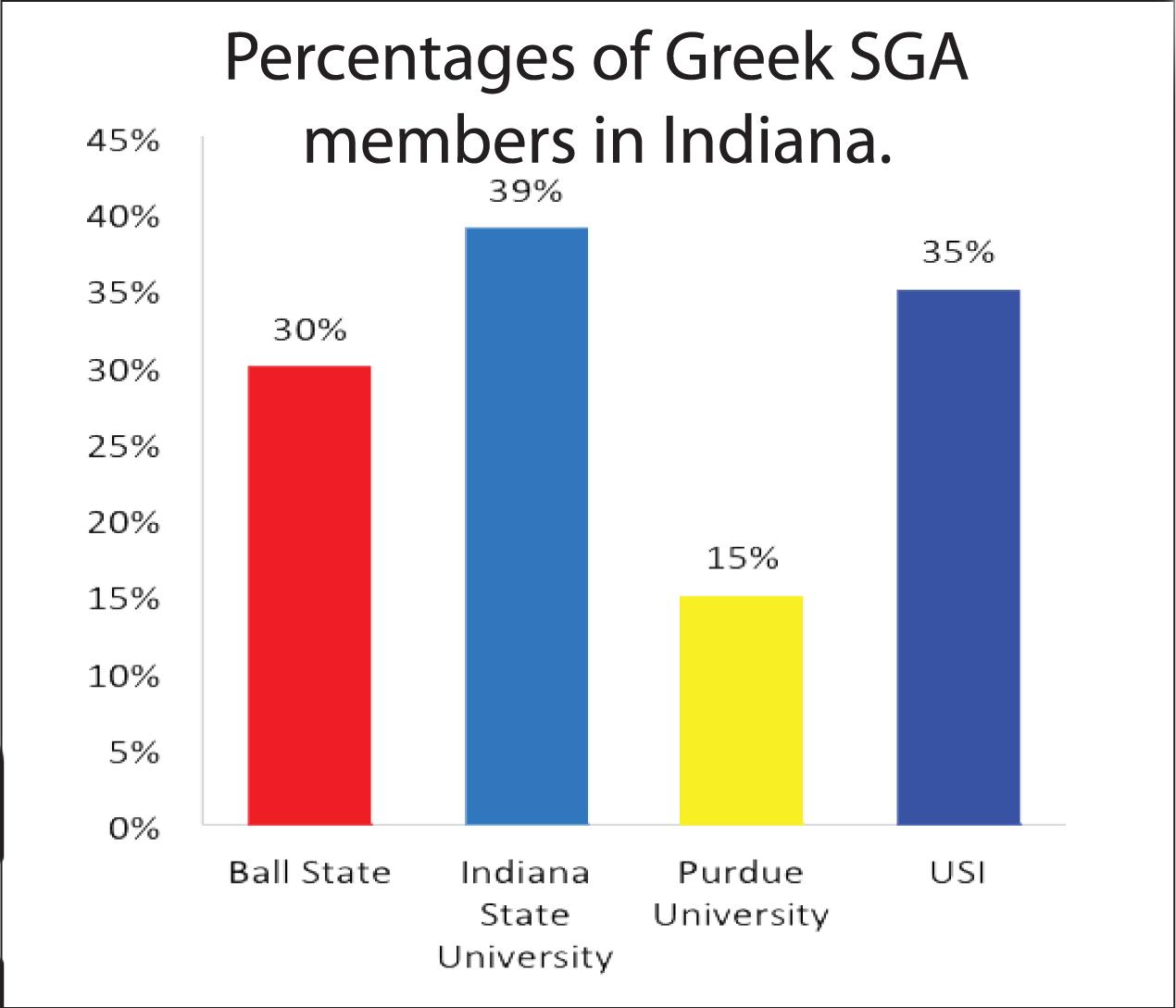 "We still have unfilled positions (in SGA.) We would like to fill those positions before we continuously add other positions."
At USI, member-at-large positions are also offered for housing students, freshman, commuter students, university division students, graduate students, and there is a constructive member-at-large position, however all of them remain vacant except for the freshman positions, according to a list provided by SGA.
Ball State's SGA has a Multicultural Council, and representatives from ethnic groups like the Asian-American Student Association, Black Student Association and Latino Student Union among others serve on it.
USI has several multicultural clubs, like the Black Student Union, the Hispanic Student Union and the South Asian Student Union, but none of the groups have spots in SGA.
Ball State's SGA President Kayla Stanton said the Multicultural Council started off weak, but it is going strong now.
She said Ball State has a diversity problem, and the SGA wants to help fix that.
"The point of the Multicultural Council is to get that talk into action and get it to where it needs to go," Stanton said.
She said the SGA also serves as an advisory board for the multicultural organizations to develop better programs, and build up connections where this is not much connection.
Whitledge said there are many Greeks in SGA because Greeks at USI are involved on campus.
"I don't think that hurts us, though. I don't think we fail to reach constituents," he said. "Everything we do, we try to think of all the students we serve."
HOW DOES SGA GATHER STUDENT CONCERNS?
The American Student Government Association Executive Director Butch Oxendine said student government members should attend meetings of other student organizations to stay in touch with student concerns, but this is not an SGA practice.
SGA instead chooses to host town halls and gives surveys to the student body.
"Your students are probably trying to do town halls, forums, stuff like that, nobody ever attends those," Oxendine said. "They don't care about them."
He said he thinks all student government members should talk to a student every day, ideally outside of their Greek "sphere" to find out what concerns students have, which can also draw in new, more diverse members, he said.
Whitledge said he and SGA members reach out to students by hosting town halls because it's a great way to get feedback, and he does not agree with Oxendine's statement regarding town halls.
"That's an individual perspective," he said.