Lego robots take over campus (VIDEO)
Revenge of the Nerds, Gearnadoes and Mad Intelligence, along with 10 other teams competed in the First Lego League tournament (FLL) Friday at USI.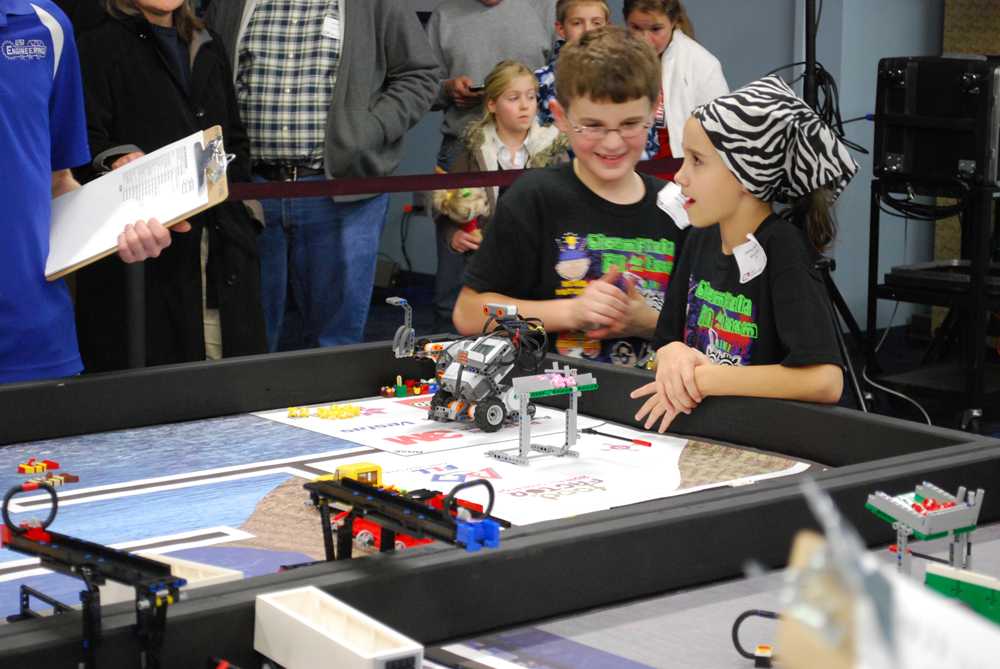 Zane Mitchell, Engineering Department chair and robot design judge, said he was excited about bringing this competition to USI. It's the first time USI has played host to the FLL.

"We have 13 teams this year and we have about 130 some odd students participating," said Allison Grabert, SWISTEM interim director and tournament director.


The teams can be up to 10 students, aged 9 to 14, Grabert said.

FLL is the precursor to First Robotics which was started by Dean Kamen, inventor of the Segway, Grabert said.

"He started this back in the late '90s and it's just kind of grown and grown and grown… each year they come out with a new field mat and a new obstacle or mission set and this year it's call Food Factor," Grabert said.

Lego commissions field kits, all pieces are made from Legos and every robot is made from Legos, Grabert said.

According to www.firstlegoleague.org/mission/corevalues the FLL program encourages participants to work together as a team and "learn that friendly competition and mutual gain are not separate goals."

The FLL approached USI back in Septemember because of USI's outreach program to K-12 schools.

Kids participating are involved in everything from building the robots to programming them, telling them what tasks to carry out.

"They have a program they have to set up in this robot to make certain turns, to make the arm even go down," said  Angie Mundy, mother of participant Lauren.

Mundy said each team's robot has to run the course three times and the highest score is what they add to their total.

Eighth-grader Lauren said her team has been working on their robot for three and a half months. Participants get their missions around the first of Septemember.

"One of (the missions) is that they have to empty a dispenser of little Lego bacteria into their robot… and get it back to base without contaminating the water source," Grabert said.

Mitchell said the teams have engineer mentors that help them through the process. He said there are students, faculty and people from the Stem Resource Center (SWISTEM) all working together to pull off the event.

There are also members of Crane Naval Base acting as judges. The participants come up with formulas that tell the robots how to operate.

"Lego provides a program for programming the little computerized unit that sits on top of the robot and there are different sensors that plug into that so these grade schoolers actually learn how to do the computer programming for that," Mitchell said.

The grand chanpion team of the FLL tournament was SWAT (Science With Attitude), which will advance to the state championship – along with team Jeep Rovers and local team Gearnadoes.