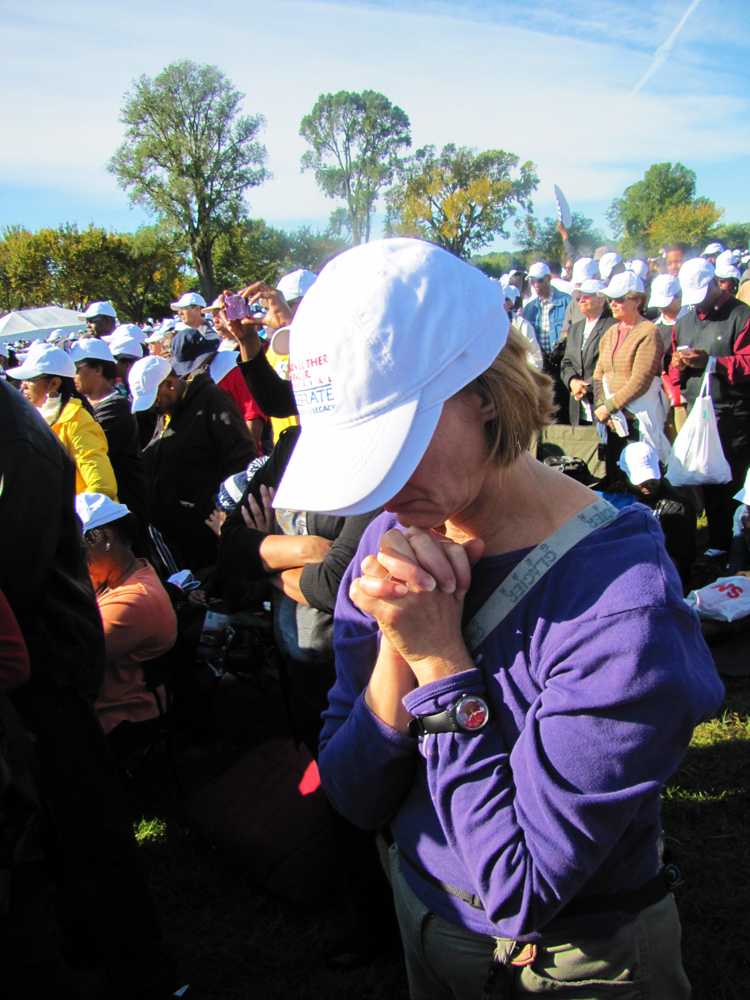 Forty-three years ago, Richmond, Va., native Gary Rosamond witnessed Martin Luther King Jr.'s final speech in Memphis, Tenn., the day before King was assassinated.
Carrying three flags, Rosamond joined thousands of others once more for the dedication of the Martin Luther King memorial in Washington, D.C. Sunday. The memorial dedication was delayed due to Hurricane Irene in August.
"I remember coming here in 1963 and fighting for freedom and justice with the thousands," Rosamond said. "It is very important for people to come up and support when they have the opportunity because of the freedoms King was fighting for. That was my era. It's why I'm here now."
Many people from all over the country came to D.C. to celebrate King's life and legacy, including a bus of 42 people from Evansville.
Evansville residents Ed Massey and Sondra Matthews organized the trip. Matthews is the editor of the "Our Times" community newspaper and director of the African American Museum. The Indiana Democratic African American Caucus sponsored the trip.
Among those present on the bus was 77-year-old Annie Tunley, president of senior ushers for the New Hope Baptist Church in Evansville and activist for the Obama campaign.
"I came up here for Obama's inauguration, I came back for healthcare and now here I am again," Tunley said, "I come from the country and we only lived in small areas. I never noticed any segregation until I moved to the city…the integration really hit me. They had a black and white section for everything."
Tunley grew up in Guthrie, Ky., and moved to Evansville in 1950. Although many making the journey to D.C. with Tunley have immediate connections to a past of segregation, others such as Oscar Ingers of Mt. Vernon, Ind. felt its effects in more of an indirect manner.
"I found a lot of difficulty researching my family's past due to prejudice and poor records," Ingers said.
Ingers' great-grandfather was an ex-slave from North Carolina that had fought for the confederacy. He brought his four grandchildren along with him on the bus. 
Several USI alumni were also on the bus to Washington DC, including 2010 graduate and Psychology Major Angelique Franklin who had intended to go to D.C. in high school but was unable to do so. 
"It's definitely something to share with the grandkids when I'm older," Franklin said. "I look forward to telling them that I was there."
Aside from President Barack Obama, many people spoke and performed before a sea of people wearing white hats in-between the Lincoln memorial and the Martin Luther King memorial. Speakers included the singer Aretha Franklin, Rev. Al Sharpton and 12-year-old Amandla Stenberg. The hats were provided by Tommy Hilfiger who also spoke at the ceremony. 
"It was about time," said former Evansville resident Sharlene Mobley. "They took a while to even decide if MLK was even going to be given a memorial in the first place. It's not just for the black people, it's for all of the races because we live and serve together. I'm just so proud of Obama because when he speaks it is meaningful, not just a bunch of bull. He is providing us structure to follow suit in what Martin Luther King wanted from us." 
Mobley currently lives in D.C. and met with her sister who took part in the bus trip from Evansville. She is also a former member of NAACP.
"My sister gave me a call and told me that she was coming," Mobley said. "I told her I would meet her down here because I have already seen the memorial three times.
Jawanna Lawrence, a local artist was another member of the D.C. trip, came with her husband and also met others in the area upon arrival. 
"The dream was never just a dream, it's real. King's dream is a reality, and that's what this memorial is all about."