Illegal immigrants pay out-of-state tuition
Jessie Hellmann
September 14, 2011
Receiving a college education in Indiana will now be more expensive for illegal immigrants.
A law approved by the Indiana legislature July 1 requires Indiana colleges to charge undocumented students out-of-state tuition. Indiana is one of six states to prohibit undocumented students from getting the resident tuition rate.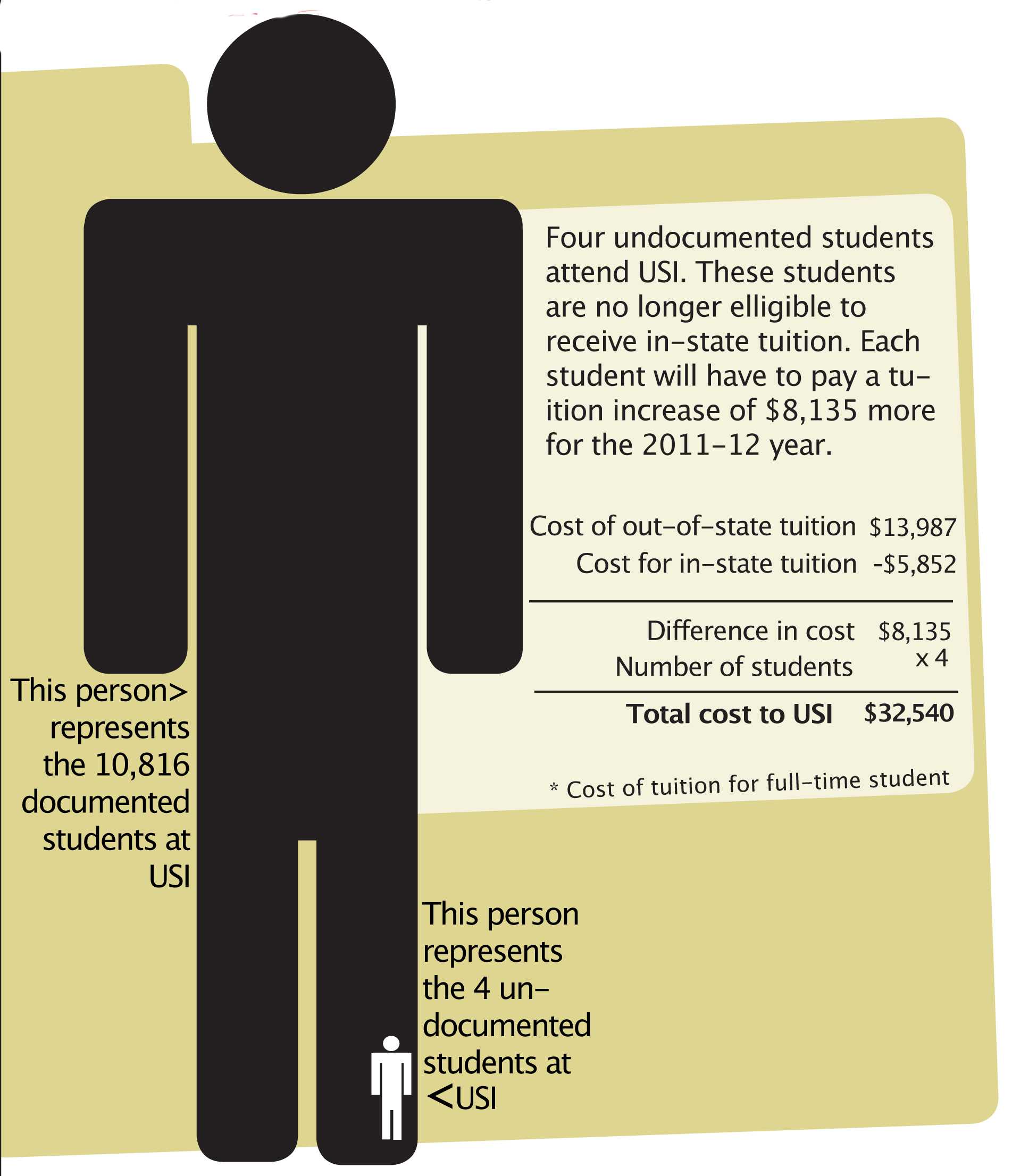 Undocumented students are students who are not living in the United States legally.
Because of the law, undocumented students will be required to pay out-of-state tuition, which in some cases can be significantly more expensive than in-state rates.
Admissions Directior Eric Otto said he feels sorry for undocumented students and their families that are facing the price increase, especially because undocumented students are ineligible for state or federal aid.
"The awkward part is (students have) been living in Indiana for all of these years, most of them are very good students," Otto said. "But now all of sudden they have to be charged out of state tuition."
In-state tuition for USI is $5,992, with out-of-state tuition at $13,987, a difference of about $8,000.
Under the new law, undocumented students are not eligible for state or financial aid, either.
Financial Aid Director Mary Jo Harper said the financial aid office plans on adhering to the new state regulations.
"It is a very controversial subject right now, and our stance is that we are gong to adhere to the regulatory requirements," she said.
"(The law) sounds fair because someone from Illinois or Kansas has to pay out-of-state tuition, because they're not from here," said sophomore art and English major Christina Klausing.
She said she thinks it is good undocumented students can still attend school in Indiana because everyone should be able to obtain an education.
The law forces Indiana schools to rethink the application process. Indiana University now requires students applying for admission to sign an electronic affidavit under penalty of perjury.
Otto said he does not think USI will need to do this.
"Because of the questions we've asked on our applications for years now, we probably have enough proof as to whether or not (students) in this country legally or illegally," Otto said.
If a student falsely claims legal citizenship on the application, they will be ineligible for admission to USI or subject to dismissal for admission after it has been granted, according to the Certification and Authorization disclaimer on USI's application for admission.
Otto said he is not sure whether or not the school will need to verify a students residency or not, and it is an idea the admissions office "probably needs to look into."
If a student admits to being illegal, he or she will have to pay out-of-state tuition if accepted to the university.
Before this law came to effect in July, Indiana colleges individually decided how to handle undocumented students.
Purdue, Ball State and Indiana State University did not allow undocumented students in-state tuition.
IU, Ivy Tech, Vincennes and USI did.
Before the legislation went into effect, students at USI that met residency requirements were eligible for in-state rates.
Currently, students must live in Indiana for 12 consecutive months to meet residency requirements, according to the USI Office of Admission Website.
Now that the law has passed, all public and private universities in Indiana are required to follow it.
Otto said students who enrolled at USI prior to the law change are still required to pay out-of-state tuition by law.
He said the law is black and white, and there is no way around it.