Recent alumnus killed in accident
Matt Zielske
March 16, 2011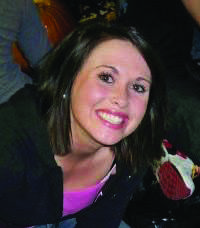 To many people, Amber Lyn Gosch, 22, was a lot of things. She was a December communications graduate from USI, a dedicated sister in Gamma Phi Beta Sorority and a loving and caring friend and daughter.
On Sunday morning, Gosch was with two men in a Jeep Cherokee when she was killed in a car accident outside of Dallas, Texas. Ladarius Tyree Adkins, 24, died at the scene of the accident and the unnamed driver was taken to Baylor Medical Center, according to Garland Police Public Information Officer Mike Hatfield.
The passengers of the jeep Gosch was in had just finished changing a tire and was beginning to pull back onto Interstate 30 when a collision occurred with an 18 wheeler semi truck.
"It [appeared] around 4 a.m. Gosch had called her stepdad and said they had a flat tire," Hatfield said. "From what we can tell, they were pulling back onto the interstate when the semi hit them from behind."
Hatfield said that no foul play was believed to have been involved on either part of the driver of the jeep or the semi.
Since news of Gosch's death, Facebook has been flooded with status updates and support by her friends, one of which is Justin Granger. Being a close friend of Gosch's, he put together a tribute video and started a note for individuals to write their thoughts and remember Gosch.
"I have so many great memories of Amber," Granger said.
The one that stuck out the most to him though was when Gosch came to see him in the hospital after he had a stroke. He was doing well and was soon to be released but she came anyway.
"That was Amber; she had a big heart and such compassion," he said.
Ashley Sanders was one of Amber's best friends and sorority sisters. They were roommates in Gosch's final semester at USI.
"Amber was so full of life," Sanders said. "She walked into a room with that big, beautiful smile and you couldn't help but smile back."
Sanders, who had been friends with Gosch for 3 and a half years, attests to the amazing relationship Gosch has not only had with those around her, but her family throughout that time.
"Amber and her mother were so close. they talked everyday," Sanders said. "Her parents lived in Texas and she was so excited to move back down there with them."
A scholarship fund at USI has been established in Gosch's honor, according to Stephanie Young, professor of communication studies. Those wanting to contribute can make checks payable to "The Amber Gosch CMST Scholarship." The subject line should include the number 40207 and checks are to be mailed to The USI Foundation, 8600 University Blvd Evansville Indiana, 47712.
"She is my best friend, my sister, my partner in crime and my confidant," Sanders said. "She and I have had our ups and downs, just like any friendship, but instead of drifting from each other, we grew closer and stronger. My life will be so different from here on out."