Cooking and Culture Fair goes Deutsch
Students, faculty and guests experienced traditional German cooking and a taste of German culture Wednesday at the Cooking and Culture Fair.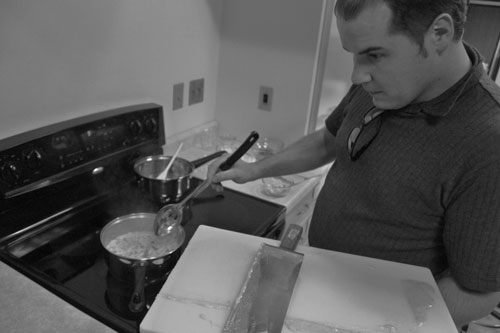 Guests got to cook their own German meal and enjoy the presentation, "A Spread of German Flavor," presented by Silvia Rode, head of the department of modern and classical languages.
Rode, together with Norma Rosas Mayen and Lesa Cagle, interim director of Faculty Development, and members of the Spanish club, Latinos Unidos (Hispanic Student Union) and the nutrition department, provided ingredients for the guests to cook.
The menu included Jägerschnitzel (pork chops, or veil chops) and Käsespätzle (pasta with cheese).
Dessert was provided: a Schwarzwälderkirschtorte- black forest cake and tea was served to drink.
Last year, three different Spanish meals were coordinated and this year they decided to change it.
They were given a grant from the nutrition department this year, and will continue to get one as long as there is a health twist to the program.
"It's about helping people understand ethnic culture and how we can be sensitive to that," Mayen said.
"A Spread of German Flavor" provided a breakdown of where German cooking got its flavor.
Germany is considered the center of Europe, and all the "regional kitchens," Roman, French, Balkan/Turkish, Austro-Hungarian and Spanish influence German cooking.
It is also the biggest traveling nation in the world. With six weeks required vacation, many Germans come back with different ethnic styles to add to their foods.
Beer, bread and sausage are the three most common things people think about when they think about German food, said Rode. But this influence actually came from the Irish and Czechoslovakian nations.
The group laughed when Rode said one could still get a prescription from the Czech doctor for beer, which they believe cures certain ailments.
There are 300 registered brands of German bread. It takes someone three years to get a butcher's license in Germany.
"Today's food in Germany is not just potatoes, sausage and sauerkraut," Rode said.
German food has become more international, more varied, healthier and lighter. It is also mostly all-natural.
With Germany's majority population not owning a car and walking almost everywhere, Germans' calorie intake is also higher. They eat light breakfasts, denser lunches and lighter dinners.
According to Rode, Germans also take much more time to eat their meals.
The average American takes a 15 minute lunch, while the German takes a 45 minute lunches.
Etiquette in German restaurants is much different from in the States, said Rode. Most Americans get their drink before their food and drink a lot before the food comes.
Germans begin drinking while eating. This method apparently helps with the digestive processes.
There are no refills on drinks. Doggy-bags are not customary, due to the much smaller portion sizes. Also, it is not strange at all to join a stranger at a table in a German restaurant.
Volunteering at the dinner were several members of the groups: Andres Ayesta of Venezuela, Melissa Chavez, Paloma Quijano, Francis Ortiz and Ana Quijano from Latinos Unidos and Lindsey VanDoornik, a nutrition and dietetics major.
Gisela Fischer is a MALS graduate student and attended the fair.
"This is one of my first experiences in German cooking, even though my mother was ethnically German. She grew up during the war and all we really had to eat was potatoes and some meat," Fischer said.
According to Rode, the evening was a great success.
"All the reserved seats got filled, and I think more showed up," Rode said.
"This is the first time I've ever eaten German food. It's really good. It's different," Matt Bayer, history student, said.
Shannon Hall contributed to this story.