Every school year, the physical plant heats and cools all of campus.
What's the trade off? They get to show off their unsightly cooling towers.
"We were kind of looking for something to hide the cooling towers, which are the big pieces of equipment that are sitting on the sides of the building," University Engineer of Facilities Operations and Planning Michael Jones said.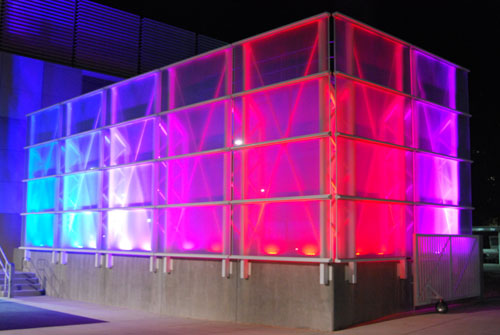 To solve this problem, a frosted tempered glass wall, dotted with circles of non-frosted glass, was built to mask the building's features. At night, this wall turns into a light show supporting 14 fixtures, each fixture containing 35 LED bulbs of red, white and blue light.
The frosted glass diffuses the light, while the little circles allow the light to pass through uninterrupted. The wall took about four to five months to complete.
The light show is hooked into the physical plant's computer system and is controlled from there.
According to Jones, the expansion of the physical plant began in 2009 and was completed last spring.
"We were out of capacity with the chillers and the boilers so we couldn't cool the new buildings that were coming online… so when the Business and Engineering Center was being designed we knew that we were going to have to expand," Jones said.
The original idea was a piece of sheet metal with circular holes cut out of it. This metal would have been sandwiched between two pieces of plastic. The idea came from David Wills of Hafer Associates out of Owensboro, Kentucky, who was
unavailable for comment. In the end the tempered glass was the cheaper material.
The material was provided by C.M. Buck and Associates out of Indianapolis.
"My involvement was giving them the proper tools to do what he (Wills) was trying to do," David Simpson, partner at C.M. Buck and Associates, said.
According to Simpson each light has a combination of red, green and blue LEDs.
"If you turn them all on it just looks like white light, but if you vary the intensity of any of those colors, or any combination, you can mathematically have 16 million plus different colors," Simpson said. "It's programmable so each of those lights can be any color we want, at any time, in any sequence to each other… it all comes down to programming."
The lights are set to turn on about a half hour after sunset and stay on until about one in the morning.