No smoking
Zach Evans
October 20, 2010
Brian Posler announced USI will become tobacco-free on July 1, 2011.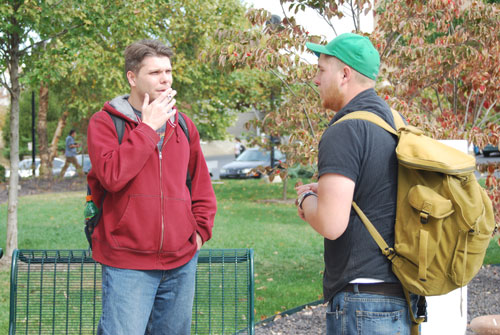 Beginning next summer, USI will become a tobacco-free campus, following the trend of Indiana University, Ball State and Purdue.
"There has been a big push for a smoke-free campus as of late and the President has decided to implement the recommendation to make USI a tobacco-free campus as of July 1," Brian Posler, assistant provost for undergraduate studies, said
Friday afternoon during a Faculty Senate meeting.
Posler said smoking and other use of tobacco will be restricted to use in personal vehicles in the parking lots.
Faculty Sentator Chad Tew was present at the meeting on Friday and heard Posler's announcement.
"It was very brief but this is exact thing the Faculty Senate recommended earlier in the year," Tew said.
"I think the decision is going to be positive for the university," Tew said. ".It sends a message to people around the region that we need to reduce smoking in the workplace and schools."
President Linda Bennett and Cynthia Brinker, vice president of university and governmental relations, were both out of town on business and unavailable for comment.
Senior Erik Neu said the ban seems unnecessary.
"On one hand I see why the decision was made," Neu said. "I see people dropping butts and littering, which creates a problem, but if someone chooses to smoke outside and if they can do it in a designated area, just let it be. Why not?"
Posler also said during the meeting that tobacco rules in housing would not be altered to due to the current use of designated smoking areas currently in place at the campus apartments and residence housing.
The USI Smoking Committee recommended in April to restrict smoking to designated areas following student and faculty surveys and an SGA sponsored town hall. In April, the Faculty Senate, by a vote of 6-3, recommended a policy that would restrict tobacco use to personal vehicles and parking lots.
Posler was unsure if designated smoking areas would be available on campus for those without cars.
"How do they even plan to enforce it? The 30 foot ban doesn't even work," sophomore Dan Scott said.
"How do you enforce the actions of 10,000 students?" Tim Mahoney, instructor in economics said.
Steve Woodall, director of security, said he couldn't comment on potential enforcement of the ban until he sees "what the document says."
"I can't say what sanctions would be made, how it would be enforced, or anything of that nature until I see the actual language of the policy, which I don't have at this time," Woodall said.
HISTORY
In 1986, indoor smoking was restricted to smoking facilities such as lounges, hallways, restrooms and outdoors.
Smoking was prohibited in hallways and lounges in 1989, but every building had an indoor designated smoking area.
After USI obtained housing in 1995, smoking was banned except in areas designated as smoking facilities.
Lastly, as of Aug. 2005, the current '30 foot' rule was implemented.