Eagles top Bellarmine and McKendree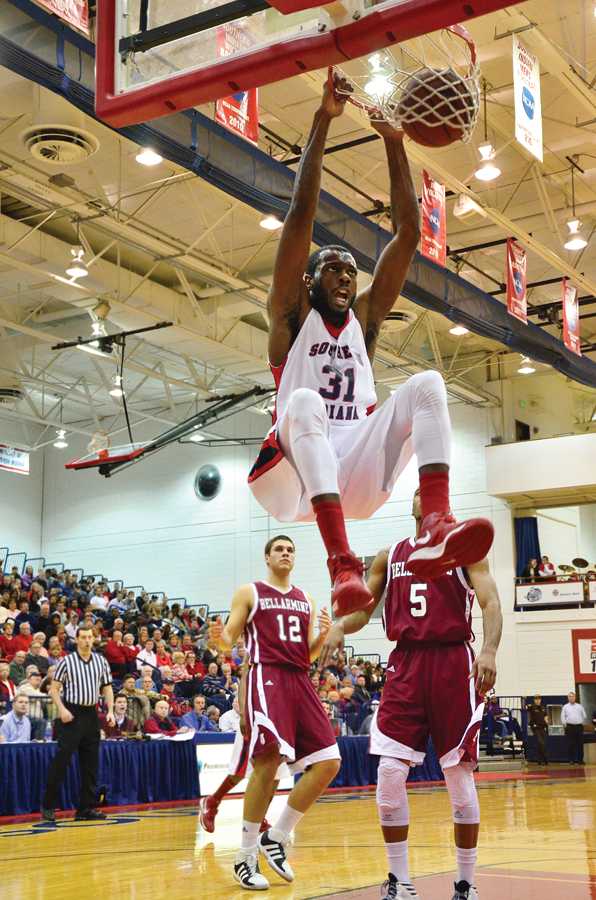 After falling behind sixth-ranked Bellarmine by eight points in the opening moments of last week's game, the Eagles turned to senior Keith DeWitt and junior Lawrence Thomas for a spark. That spark turned into a 21-2 scoring run for #13 Southern Indiana that saw a 14-22 deficit wiped away and eventually turned into 37-24 advantage – all within a span of ten minutes.
"We just wanted to use our quickness," Thomas said. "They are a great shooting team … when they are at their comfort level. We wanted to speed them up and make them do stuff they are not used to doing."
When the Eagles (16-3, 9-2 GLVC) sped the game up, the Knights (15-3, 7-3 GLVC) sped up their offense, which turned out to be costly for the defending regular-season GLVC champions as they could not keep up with a fast-paced but patient USI offense.
Leading the charge for USI was DeWitt, who played all but one minute and had 18 points and 12 rebounds. He led a balanced scoring attack which included 12 points from Thomas and 14 points from junior Orlando Rutledge, who overcame early foul trouble in the first half.
"I let the game come to me – I didn't force a lot," said Thomas. "They try to clog up the middle in a half-court setting so it's a good team for your shot to be falling against."
USI head coach Rodney Watson said the focus from the beginning of the game was pushing the ball up the floor and putting extra pressure on the Knights' defense. The plan worked, as the Eagles shot 51% from the field for game while tiring out Bellarmine, who made only 35% of their attempted shots.
"We got into their wind tank. We were really pushing the ball up the floor and making them get back on defense," Watson said. "I thought once we made them play from behind they were a different team."
Along with the points and rebounds, DeWitt dominated the paint defensively, accounting for six of the seven USI-blocked shots.
"I think you're really starting to see Keith DeWitt," Watson said. "The way he distracts things in the middle of the floor, the way he rounds and goes to the rim with power – we are glad we got him."
After taking on Bellarmine last week in the PAC, the Eagles traveled to McKendree University Saturday, where they took down the Bearcats 78-68. This win led to a tie between the University of Parkside-Wisconsin and USI in the GLVC East Division.
The Eagles take on Lewis University tonight in the PAC at 7:30.
On Saturday, the team will face off against opponent University of Wisconsin-Parkside, breaking the GLVC tie.