Sitting,Waiting,Wishing
Tick. Tick. Tick. If you watch the clock, time moves slowly. All eyes are on the clock of the NCAA. The USI men's basketball team wakes up, lifts weights and waits. They come back in the afternoon, run endless plays, and wait. They wait because the NCAA has yet to make a judgment on the suspension that the team serves. A decision was supposed to come 2 weeks ago.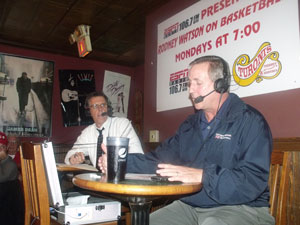 "I would be really surprised if they tacked any time on the end of this suspension," Director of Athletics John Mark Hall said.
The team has served a one year suspension that was enforced by the NCAA, which prevents them from NCAA tournament play in the post season as a result of infractions comitted with the previous coach, Rick Herdes. The infractions include academic dishonesty on the part of the previous coaches and athletes.
The suspension that was handed down by the GLVC has been served and the men's basketball team has been cleared for post-season conference play.
"We have to win our conference before there ever is a post season," coach Rodney Watson said.
Watson noted that worrying about March is like putting the cart before the horse, when they first must worry about November.
"If we win our conference, we're going to the tournament, make no mistake." Watson said.
Following the difficult season the basketball team had last year, many fans are still dedicated. Still, there have been others that left the program: boosters that were lost.
"Listen, people come and go from the program," Watson said, "but we have to be the best we can be and let our character speak for itself."
Fans shouldn't worry, John Mark Hall said. The NCAA has been very professional in their handling of this situation.
"They were impressed with us in Seattle," Hall said. "We have cooperated fully."
Hall said that as hard as it is, they have to do what's right and move on. The basketball team did just that going 25-3 overall last year.
"I would be lying if I said we didn't wonder sometimes." Hall said
Hall is eluding to the fact that last year, the men's baseball team won a National title. With the success, the men's team had many wondering what could have been.
"Our guys haven't asked or complained once about the suspension," Watson said, "not in mid summer in 95 degree heat running sprints. Not at 6:30 in the morning in the weight room."
Perserverance pays off and Watson believes that is the key to the program's success.
"The program must continue on."
Nick Evans, junior center, will serve a two-game suspension.