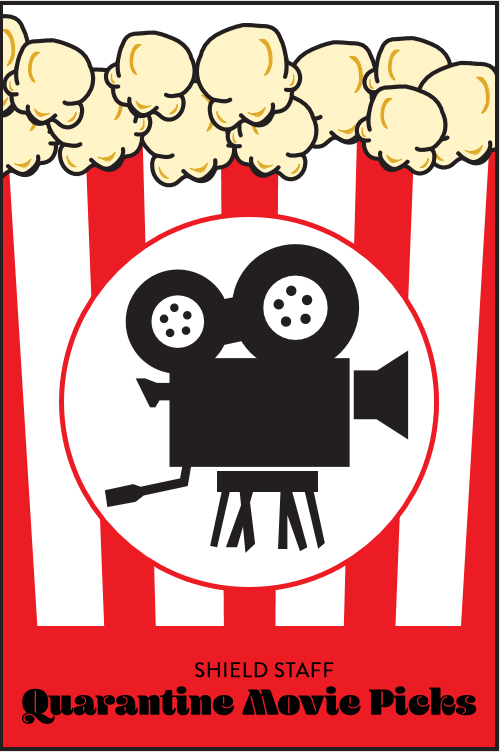 COVID-19 is proving to be a difficult, crucial time for everyone, causing them to adjust their daily lives. Because of the boredom and anxiety many are feeling, here are some of the Shield staff's movie recommendations for those who need to pass the time or take their minds off what's happening.
"The Platform"
Available on Netflix
Pegged a Spanish science-fiction horror-thriller film, "The Platform" takes place in the future where prisoners are housed in a large, vertical tower with only one prison cell per floor with two inmates and are periodically switched at random between the 300+ floors. Where's the thrill, you may ask? It lies in the fact that these prisoners are fed by a platform, filled with food, that gradually descends down the levels and provides problems for those of the lower levels when the inmates in the top levels get to eat as much as they want.
"The Craft"
Available on Netflix
An underrated, supernatural classic from 1996, this film follows four outcast teenage girls who decide to pursue witchcraft for their own advantages throughout their highschool days in the city of Los Angeles, but soon are struck with the negative repercussions of misusing such abilities that could result in deadly outcomes. 
"Spider-Man: Into the Spiderverse"
Available on Netflix
If you're a fan of superheroes, Marvel or maybe just charming animated movies, "Spider-Man: Into the Spiderverse" is definitely a movie worth checking out. The story follows Miles Morales, a Brooklyn teenager who is bitten by a radioactive spider and thrust into a world of mysterious powers, where he requires help from the original Spider-Man, Peter Parker, to teach him to harness his newfound abilities and save his world from a madman plotting to open portals between different universes.
"Freaks"
Available on Netflix
Seven-year-old Chloe lives apart from the outside world in this sci-fi thriller. She has been kept inside and locked away from what her father deems a dangerous world, a world in which people called Abnormals are considered a threat. Everything changes for her when she meets a stranger who offers to show her what the world is truly like outside, and Chloe soon learns that everything isn't as simple as she once thought it to be. 
"Heathers"
Available on Hulu
This film from the late 1980s is considered a cult classic, and has even inspired a musical that has received much positive feedback. The story follows Veronica Sawyer, a teenage girl yearning for a chance to be one of the popular kids for a chance of a more exciting school experience free from bullying. When she joins the Heather clique consisting of three popular girls named Heather, she begins to reconsider what it truly means to be beautiful and what high school is about.
"To All the Boys I've Loved Before"
Available on Netflix
If you haven't heard, Netflix's constantly raved about "To All the Boys I've Loved Before" from 2018, you might be living under a rock. This romantic-comedy follows Lara-Jean, a shy highschool girl who is about to experience a load of embarrassment and interesting experiences after all the letters she's ever secretly written about the boys at her school she's had crushes on are all sent out to the boys she had written about. 
"Sweeney Todd: The Demon Barber of Fleet Street"
Available on Netflix
As with nearly all Tim Burton and Johnny Depp films, "Sweeney Todd" is not an exception when it comes to their typical creepiness. This period-slasher is also a musical that follows the English barber and serial killer Sweeney Todd, who murders his customers with a razor and then hides the bodies with the help of Mrs. Lovett, a loony accomplice who makes the bodies into meat pies to sell. 
"Dumplin"
Available on Netflix
"Dumplin", a comedy-drama, depicts a plus-size teenager named Willowdean (or Dumplin) deciding to enter her mother's beauty pageant as a protest against shallow beauty standards. Things escalate and change her small Texas town when other contestants start following in Willowdean's footsteps to help revolutionize the pageant.
"What Did Jack Do?"
Available on Netflix
An American black-and-white short film you can also find on Netflix, "What Did Jack Do?" is a unique piece following a capuchin monkey being interrogated by a homicide detective for possibly committing murder. The synopsis simply reads as "In a locked down train station, a homicide detective conducts an interview with a tormented monkey."
"Booksmart"
Available on Hulu
High school best friends Amy and Molly are academic overachievers who have never stepped away from their goals of sticking to the books and staying academically above their peers. On the verge of their high school graduation, the two realize they may have missed their chance of making special high school memories such as going to parties and embarking on crazy adventures. The two decide to cram all of their missed opportunities into one night and do all the things their studies never prepared them for. 
"A Silent Voice"
Available on Netflix
Japanese animated drama "A Silent Voice" is an emotional ride. When an impaired hearing student named Shouko Nishimiya transfers to a new elementary school, her classmate Shoya Ishida endlessly bullies and berates her to the point of her moving away to a different school. Now treading through high school as a social reject, Shoya looks back on the school days when he would bully Shouko and is determined to make it up to her and be her friend, as well as help both of them get through their anxieties and regrets.