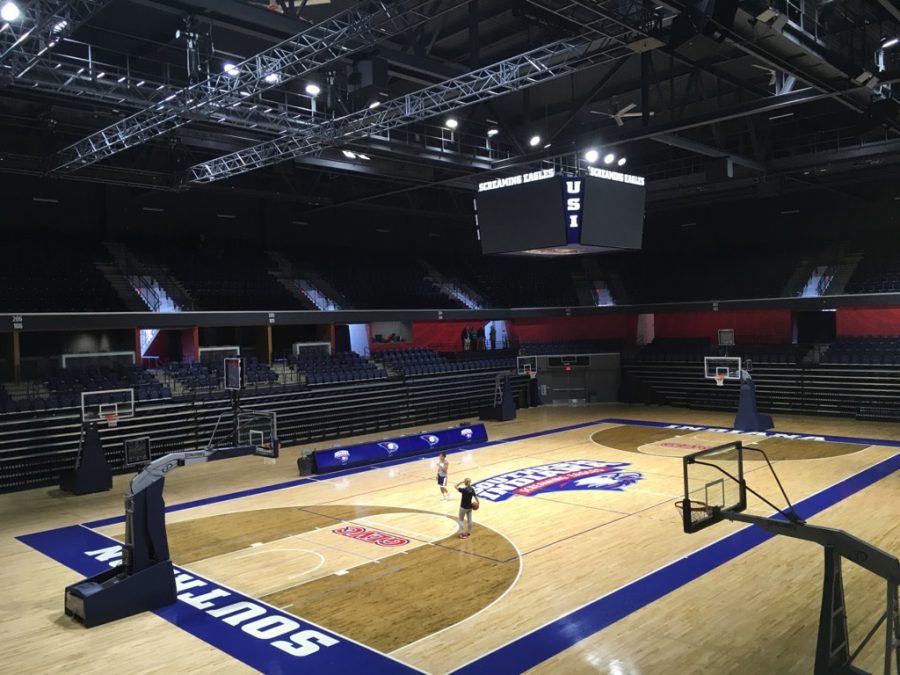 With a new arena comes the challenge of finding the perfect seat to watch the Screaming Eagles battle their opponents.
For those that have always had the same seats, game in and game out, the challenge becomes even harder and with a price increase, but the Athletics Department has a game plan.
"It's challenging, because some people may have had a certain area that they sat in for a long period of time and they might not be able to get that exact spot," Director of Athletics Jon Mark Hallsaid. "But I think most everybody was happy. You have a couple people that were maybe a little frustrated, they want to sit in a certain area, but most of it was pretty good during the process."
The process was to make a priority system. The Athletics Department brought in groups of five individuals or families into the arena and gave them 30 minutes, out of six to eight days, to pick out the seats that they wanted at the end of June and beginning of July.
"It took a while to kind of establish the priorities and how we would do it," said Hall. "We feel like it went really well over the summer."
When they stopped showing the arena to dedicated fans of the Screaming Eagles, they moved onto the new season ticket holders, people that hadn't bought season tickets before.
"Then when the next group would come in, we let them know which ones were available and which ones that have already been sold," Hall said. 
The addition of the suite rooms make the arena even more interesting because they have the best vantage point to see the whole arena, but they won't be included into the season tickets and will only be sold out on a game to game basis.
"There are four suites on the west side of the facility and those you would definitely be able to view the game," Hall siad "The university has a suite, we have some of those for sponsors, and then we rent some out on a game to game basis."
The one seat that the athletics department was really excited about was the floor seats, which had never been sold before.
"We also, for the first time, sold floor seats and we offered 24 of those," Hall said. "We're really excited about that and those are $400. So that's something that we've never had before."
With the Screaming Eagles arena being new, seating prices have also gone up. In previous years, the price for the lower bowl seats in the PAC was $140, but in the new arena it's $180, and their sales have grown 15 to 20 percent because of those numbers, and hope to grow on percent in the future.
"We all feel like the excitement of the arena and the new facility is what's driving this and plus the success that our teams had last year in the last couple years that really have driven it," Hall said. "Hopefully everybody will get to go to the facility and enjoy the games and hopefully we increase it again next year."