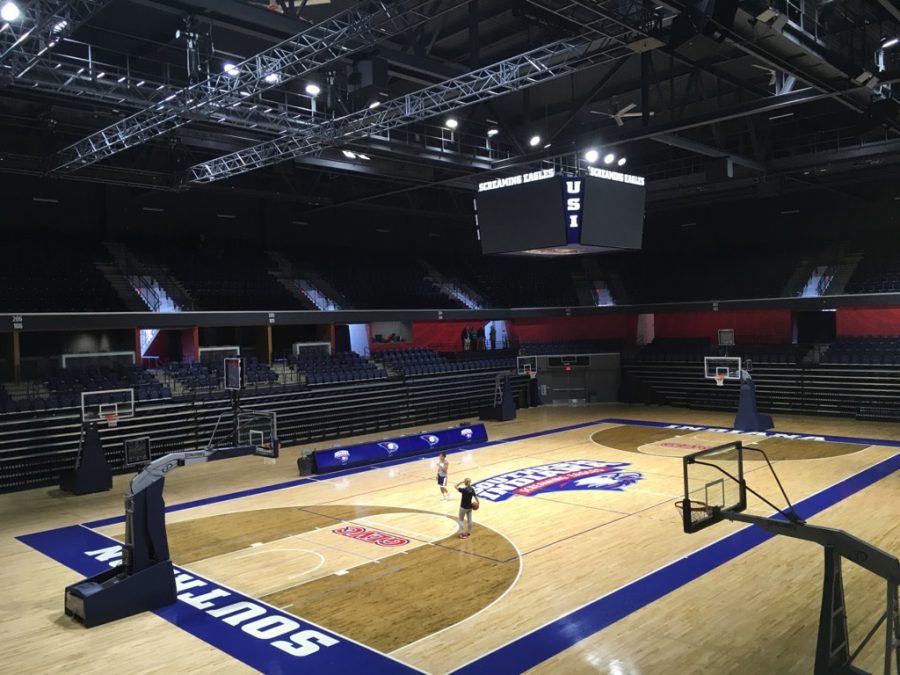 Screaming Eagles fans are excited for the new basketball season because this is the first season that all the home games will be held at the new arena. The Screaming Eagles arena will host its first basketball game Nov. 13 after opening in the spring of 2019. 
"From a basketball coach's viewpoint, they didn't miss a single thing," Men's Basketball Head Coach Rodney Watson said. "The playing surface is perfect, lighting is outstanding and the locker rooms are absolutely perfect."
The new arena has many new features including three concession stands, more restrooms, a gift shop, different types of seating, and suites. 
The new arena has suites available to purchase. The suites include padded seats, tables, a little kitchenette area that has a sink and mini refrigerator, and a great view. 
The PAC will now serve as basketball's practice facility as well space for other sports like softball, baseball, cross country, and track which were all in need of indoor facilities. 
Another aspect of the the new arena is it has newer technology. Junior Radio and Television major Marissa Jacquay said it's a lot more advanced than the old PAC.
"I work there with sports broadcasting, like putting the video on the board and everything and as far as that goes it's a lot more advanced," Jacquay said. "It just looks a lot better and it's going to be easier to get people hyped up to go to games."
Watson said that going from the PAC to the new arena wasn't a difficult adjustment, just different. He said the feel is different because there's more space, but there's always adjusting when you go to a new place. 
"It took a little bit of adjusting, like it would going to any place new or when you go on the road but once you kind of get dialed in, from a basketball standpoint, it just has a great feel to it," he said.
Watson would love nothing more than to see the USI student body embrace the arena as their own.
"What we really need is for our student body to embrace this as their very own," Watson said. "I really want to point out that this is not the basketball arena, not the volleyball arena, it's the USI student body arena." 
The next game in the new arena will be the beginning of the newest basketball seasons against Central Missouri at 7 p.m. on Nov. 13th.