Upcoming women's ultimate frisbee tournament
Erin Waite talks about Ultimate Frisbee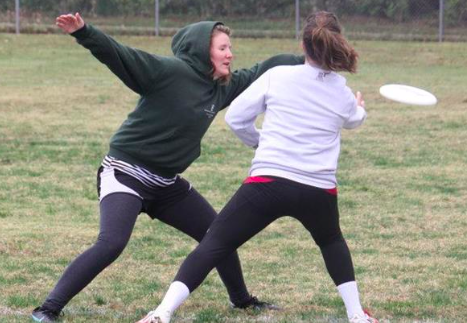 Ashley Phillips
October 9, 2019
It's that time of year again where ultimate frisbee is in full swing. The girl's ultimate frisbee team has a tournament this coming weekend in Evansville.
Erin Waite, a sophomore ultimate frisbee player,  came across the team under the breezeway at one of the tables that they set up.
"When talking to the girls, as soon as they said that they traveled I was sold," Waite said.
The game is played with seven players per team on the field at a time so that there are no more than 14 players on the field at once.
They are allowed to substitute players during the game as long as they do not go over the limit of the required seven at one time. Points are scored by players holding off the other team while passing it to each other until their team catches it in the end zone. 
Players spend a lot of time brainstorming possible new plays and working out the plays at their practices.
Waite said a lot of people don't realize how hard ultimate frisbee really is.
"We do a lot of running and cutting techniques, defending, and we have learned a few ways on how to throw the frisbee," Waite said. "Frisbee is a lot of work but a lot of fun."
The women's ultimate frisbee team meets on Tuesday from 6 p.m. to 8 p.m. at the Broadway Fields, and the dues are only $20 for two semesters.