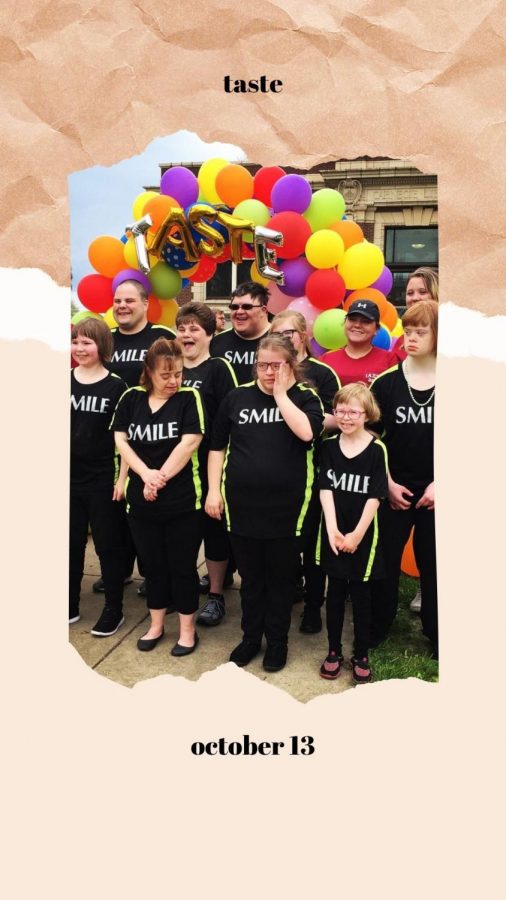 Photo courtesy of Emma Shafer
Every other week the Shield will interview a student involved in volunteer work. This week, Emma Shafer and Dana Hunt talk about their involvement with volunteer activities through Alpha Sigma Tau.
Emma Shafer said she wanted to join a sorority in college to find a strong sisterhood and a community on campus.
The senior public relations major joined Alpha Sigma Tau as a freshman and is grateful for the bonds she has formed with her sisters.
"They encourage me to grow," Shafer said. "It's been amazing and my favorite part of my college career."
Shafer said as a public and nonprofit administration minor, volunteering has always been instilled in her. Her sorority has helped her learn more about planning and organizing volunteer opportunities.
"(Volunteering) also helps you build a community that is outside of just your small world," Shafer said. "It opens your eyes to things that you normally wouldn't see, and it makes you feel like you've done some good."
Shafer is now the director of philanthropy for the sorority and oversees all preparation for volunteer events. She said she is proud of her sorority sisters and the great things they've accomplished within the community.
Sorority Alpha Sigma Tau volunteers for two main programs throughout the school year. Shafer said she was proud of her sisters for going above and beyond the required 10 hours, bringing in volunteer hour numbers from 40-80 per person.
Shafer said one of her favorite volunteer acts the sorority organizes is fundraising for S.M.I.L.E. on Down Syndrome, an organization that provides support services for people and families affected by down syndrome.
The sorority hosts a cook-off event titled tASTe every fall, where numerous teams of community members prepare dishes for spectators and kid judges from S.M.I.L.E. There will also be a special performance from the S.M.I.L.E. dance team.
Shafer worked within the special needs area before, with both her siblings and a friend from high school, giving this foundation a very personal connection.
This year's tASTe will be held Oct.13 from 1-5 p.m at Turning Pointe church.
Shafer has been preparing by helping to market the event by increasing ways for people to donate food for the cook off and keeping communication between everyone involved open and clear to make sure this year goes smoothly.
"It's taught me that no matter what you do, as long as you do it with a gracious heart its always welcomed and accepted," she said.
The sorority's second major volunteer group is Women's Wellness Initiative, a national organization that helps women who are struggling financially get back on their feet by providing clothing for interviews and professional counselors.
Alpha Sigma Tau president Dana Hunt said giving to the Women's Wellness Initiative is important to her because it gives the sorority a chance to come together and help over women.
"I really like that we are connected to it because it's really women empowerment which is another thing sororities are based on, the senior nursing major said. "It's helping your fellow women because everyone goes through tough times."
Hunt said the sorority tries to do a fundraiser each year to bring in different products for the initiative and provide for the "Dress for Success" project. This year, Hunt and Shafer are working on trying something new for their fall fundraiser and are hopeful in the number of donations they'll be able to give.
Hunt said it's important to support a national organization along with their many community-based groups.
"It's just like an organization that's really focused on bettering women and I think it kind of puts things into perspective that it's not just about this community in general," Hunt said. "There are women struggling everywhere and we're helping them by donating and fundraising, and by helping spread awareness about their mission."
Other areas where the members of Alpha Sigma Tau give back are up to the individual. Hunt said they encourage each sister to pick a place in the community to give back to what they care about. This allows sisters to have personal ties to their volunteerism acts and to spread Alpha Sigma Tau's volunteering throughout different parts of the community.
"We leave it open to what they want to do," Hunt said. "We usually make it a fun thing to go and volunteer together. It's easier because then it's not so much at once."
Hunt said all Greek life on campus truly reflects the university's community spirit and need to volunteer.
"We just really like to give back to the community," Hunt said. "That's what we're all about, that's what we're built on. We are community and volunteer based. I think that really adds to USI."