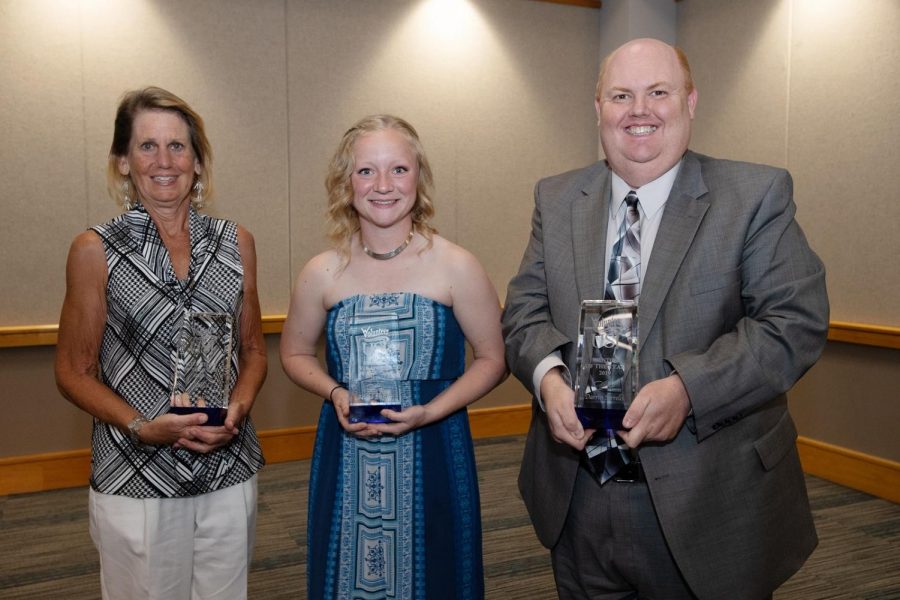 USI Photography and Multimedia
Volunteer USI recognized three recipients of the Volunteer of the Year awards during their annual dinner Aug. 21. The awards recognize a student, a mentor who is a part of the university faculty or staff, and a volunteer who is a part of the university's faculty, staff or alumni. Each volunteer was nominated by members of the university community who noted their hard work and service to the USI community.
Student Volunteer of the Year
Rebeka Mercker started volunteering in middle school after joining different organizations to improve her college resume. Mercker quickly learned that volunteering was more than a resume requirement.
"Once you get going, volunteering just fuels itself," the senior biology pre-med major said. "You see that you're helping people feel good and you feel good also. You keep searching out those opportunities."
Mercker wanted to continue helping others through volunteerism and soon became a member of Timmy Global Health.
Timmy Global Health is a national non-profit group based in Indianapolis that provides healthcare for developing nations. The organization focuses on local service, medical service, medical professional recruitments and fundraising.
She said since pre-med is her career goal, Timmy Global Health was the perfect fit for her.
Mercker will be president of the organization's USI chapter starting this year and is excited to begin planning and recruiting new members.
Mercker also joined Student Ambassadors her second year at USI. As an ambassador, Mercker volunteers to lead open houses and tours to prospective students and new members of staff or faculty.
Mercker put in 85 hours for Student Ambassadors and 20 hours for Timmy Global Health last school year.
Mercker said it's important for students to know that while classes are important, there are many opportunities given by the university to reach out and help those less fortunate.
"I think we have to use that fortunate aspect of our lives to help those who are less fortunate," Mercker said. "You see that there's a whole other world that's so much beyond USI and focusing on the people out there in the world makes it so much better. It really rounds out the college experience."
Mentor of the Year
Darrin Sorrells, a learning assistance specialist in academic skills, said after ten years at USI, his work still doesn't feel like a job. Instead, his work is his passion, his calling.
Sorrells said he was surprised and honored to receive the award and remembers his own college mentor, Ron Malin. He said Malin was the director of Oakland City University's student support services and was a strong, positive influence.
"He was always so encouraging," Sorrells said. "That's why I think this award that I received just meant a lot to me, because I know I had a positive mentor in my early life as a college student and then as a professional. I want to try to emulate as much as I can about how he led his life and how he inspired others."
He said as a member of USI, his job is not just to tutor students on academic tips like notetaking, scheduling or helping students find the right careers. He is also here to care for the students and help them however he can.
Sorrells said this builds a strong connection between faculty and students and then students feel comfortable to reach out and ask for help.
He said a big part of that is supporting the students both in and outside of the classroom which is why he attends as many home sporting events, theatre performances and concerts as he can.
"All students do appreciate that extra support," Sorrells said. "I think it helps keep them motivated when we do give them that extra support."
Volunteer of the Year
Jennie Puckett said she was humbled to be awarded the honor and recognition from the university.
"(Volunteering) is just part of my life," Puckett said. "I just try to do what I can."
The 2003 graduate has been volunteering at university events since she was a student at the university, whether it's helping with Welcome Week and greeting all the new students or preparing for the graduation ceremony with all the excited students and their proud families.
"I think if more people did volunteer, they would be amazed at what it brings to them," Puckett said.
She said volunteering as an alumnus is especially important because the campus community has done so much for her.
Puckett said living in the Evansville community always provides her with plenty of opportunities to help out any way she can. This includes volunteering on campus, assisting at her church or any other place that might need her.
"It's made my life richer," Puckett said. "There's just so many people and I've learned so much. It's always made that day just a special day when I know I'm out and with other people and just trying to help wherever I can."