Graphic by Monica Smith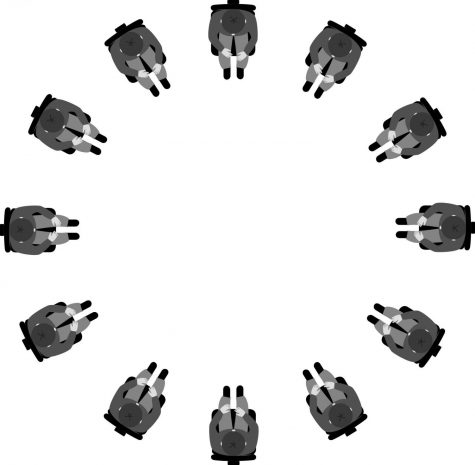 Christina Zolezzi's mother was hospitalized the summer before her freshman year of college. The sophomore nursing major said as she began college, she struggled with the burden of needing to speak with someone about what was happening in her life.
This led Zolezzi to seek professional help from the university's Counseling Center.
Zolezzi still enjoys her weekly session with her counselor because she said it gives her perspective and the ability to cope with her situations better.
"It just really helps USI students be able to deal with life's difficulties," Zolezzi said. "Especially when they have very special family situations of their own. It gives (students) a special space away from home."
This year, Zolezzi has decided to join the Counseling Center's interpersonal process group therapy along with her individual sessions.
Zolezzi said she enjoys group because it allows her to vent with her peers who are understanding of her situations and it helps her relate to others too.
"It helps us better understand that we are not alone and other people have similar situations, that other people understand that are our age, not just counselors," Zolezzi said.
Zolezzi said group therapy requires every member to be responsive, which can be difficult for students with extreme anxiety but she believes pushing through your fears and speaking with the group truly helps with what's going in your life.
While larger groups could beneficial, Zolezzi believes the small groups offered at the Counseling Center make sharing easier and allows time for everyone to speak.
"(Group therapy) is important because it gets a group of people together who are able to relate to each other, and we force each other to be vulnerable and to have no shame in the situations, life experiences, emotions and responses that we have," Zolezzi said.
Staff therapist and group coordinator Mary Mireles said the Counseling Center offers several different group therapy options to better fit students. These include interpersonal process groups where students can discuss anything they need to talk about and skill-based groups that help teach students stress and coping skills.
There are also two topic-specific groups, sexual violence survivors group and a body image group.
Mireles said these groups change semester to semester, depending on the specialty of the center's therapist. Next semester, Mireles is hoping to add more skill based groups and interpersonal process groups.
Groups are formed based on initial group screenings, what group fits a student's needs and which group would work best for the student, whether that be a gender-specific group or topic specific.
"We are rounded and grow up in a group environment," Mireles said. "We need to connect as humans to grow and develop. That's what group here at the university provides."
Especially for students in college, Mireles believes group therapy can help normalize issues and experiences specifically on the university campus.
"We're so fast-paced," Mireles said. "(We're) constantly busy and it can sometimes feel really isolating when we have to deal with our issues. We provide that sense of community and connection."
Groups also allow the Counseling Center to reach even more students than just one on one therapy. Mireles said there is a high need for the Counseling Center's services, and group is a fantastic way to bridge the gap between waiting.
Mireles said smaller groups can allow more personalized conversations and deeper connections with group members but medium groups are ideal.
The groups Mireles has worked with this semester have consisted of seven to 10 students, an ideal number.
"I think that that give it a more diverse topic and experiences in the group," Mireles said. "You get a lot more perception and you can get different kinds of feedback."
Group also allows students to learn from their peers.
"Where it's one on one with a therapist, it is very much that personalized therapy," Mireles said. "We talk about anything and everything from anxiety to depression to family stuff to transitions. You can learn a whole bunch of stuff from group."
Mireles believes the most important thing students can take away from group therapy is the things they learn about themselves and improvements to their interpersonal connections, both outside and in group.
Zolezzi said her experiences as apart of her group have been making a great impact on her life and individual counseling sessions. After each session, Zolezzi said she felt good inside, if not sometimes raw from the events, and it leaves her ready to face her situations and challenges.
"If you feel alone, you feel even more isolated," Zolezzi said. "Like nobody can understand you which does not help anyone's mental health. But (therapy) is a really positive thing in our lives. It helps me go more in depth with my own feelings, thoughts and reactions. It's always made a really positive impact on my life."