Megan Thorne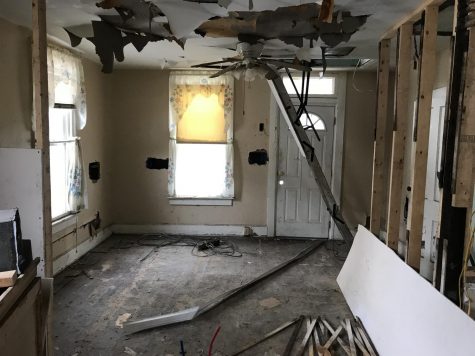 A crumbling house on the long stretch of Jefferson Avenue will be torn down. Yet, before the lot is cleared of any indication of the home that once stood there, it will be filled with people straining their necks to admire the art made by university students.
The students of Art History 490 have started working on the beginning stages of their "Art House 2 Project" which will take the vacant home on Jefferson Street and convert it into an art installation.
The project is in the designing stages and is set to open May 3 to be included in the festivities of Funk in the City.
The students will begin working in the house after spring break.
Jenna Sharp is on the design committee for the project and said her group is creating immersive pieces for the installation.
The senior studio art major said the class is broken into groups based on their specific art specialization. Each committee comes up with ideas that the class will agree on as a whole.
"I specialize in optical illusion art," Sharp said. "So, I think having a room exclusively for black and white optical illusions is something that hopefully everyone is on board with and is going to want to do."
Sharp said they have gone through over 10 design ideas since the beginning of the semester.
"We all started out with one idea and we would present it, and if the class thought it was logical or would work we would keep it and expand upon it," Sharp said. "If they didn't and there were problems with it, and if it wasn't going to work for the house it would kind of get discarded."
Sharp said they want to have a room set aside for lighting.
"We're working with light designers to work with different lighting," Sharp said. "Say the room is red, and we have specific paint on the wall that you only see in red lighting, and then if the light shifts to blue you have the paint that is only visible in blue light. So as the lights rotate in the rooms, you see different things painted on the walls."
Sharp said it has been hard to let go of some of the early ideas.
"I think we all have a lot of really good ideas, but then sitting down and saying, 'okay what materials do we need?' and 'how much does that cost?' and 'where are we going to be able to get that?' I think we all had larger ideas, and we've kind of had to scale them down because of budget."
Kameron Nosko said it's challenging to design pieces for a space you haven't laid eyes on yet.
The junior studio art major is also on the design team. Having not been in the home before, the attempts to create pieces that will fit the spaces with missing walls and oblong shaped corners has been difficult.
"It's really hard to judge (if) our designs even look right or if they work," Nosko said. "Just thinking about little small details, like if we did a tape project all that tape would cost a ton of money, or if we hang something up we have to think about how much the nails are going to cost. Thinking in very small details is hard."
Nosko said she has kept their budget in mind with all her design ideas.
"I researched the artists that have done this particular art installation and began to develop a materials list and a budget that we're going to have to have in order to do the art installation," Nosko said. "I tried to figure out how much all the materials cost and try to think outside the box, how many nails we will need and hammers etc. And trying to really see if the idea is plausible."
Nosko said she wants this installation to be liked by everyone, and not just artsy people.
"My hope is that we can create something that is an experience rather than an art exhibit," Nosko said. "I hope they will be taken aback by what we have created and feel like they aren't in a house in their neighborhood."