'Vagina Monologues' the legacy that lives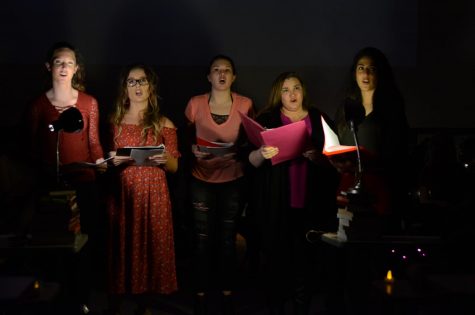 Morgan Dale said there is power in being open.
"And apparently, this involves asking one about vaginas. At first women were reluctant to be open, in which I understand," the junior philosophy major said. "Then they got excited because most people do not ask them about the touchy subject."
Dale said the vagina discussion led to "Vagina Monologues."
"'Vagina Monologues' are all about different women's experiences with what it means to be a woman to them," Dale said.
Eve Ensler, an activist, is the writer of "The Vagina Monologue," dating back to Valentine's day of 1998.
As the philosophy club takes on their twelfth year in hosting Ensler's play "The Vagina Monologue," there is much fundamental awareness that is being shown in the light.
Doors will open 7:00 p.m. Wednesday, and 6:30 p.m. Friday in Forum 111 of the Wright Administration Building. Tickets will cost $8 at the door entry, and all proceeds will be granted to a non-profit organization.
Dale said 90 percent of proceeds will be given to Willow Tree of Posey County, which is a domestic shelter located in Mount Vernon.
"While the other 10 percent will go to the v-day national fund, which is Ensler's nonprofit," Dale said. "This year the story involves a woman who is from southern Indiana, who will remain anonymous, and her story with being a part of the justice system."
According to The Vera Institute for Justice in 2017, in the United States alone, 86 percent of women in prison were sexually and/or physically abused prior to incarceration. In the aftermath of abuse, trauma can lead to substance abuse and addiction, which can easily become a pathway to more violence, crime or incarceration.
"There is no story that is better or worse than anyone else's, it is all a story. It is always helpful receiving validation for what one has went through, especially around such wonderful, loving and an accepting group of people," Dale said.
Dale said the monologues are about empowerment.
"Together we can make a change and help raise awareness and help get rid of some of these stereotypes or stigmas that are involved, and make sure that women know they are beautiful and worthy of love." Dale said.
Associate Professor of Philosophy Mary Stoll said this year they are doing something different than anything they have ever done.
This year students will be reading personal stories, rather than the scripted monologues that have always been used.
"Personal stories are just 'wow,'" Stoll said. "Stories that we would only talk to each other about are now being broadcasted."
The theme this year deals with incarceration.
"There are four people reading their stories. The spot light theme that we had to write about was someone who was held contained. Given the stigma that follows with the criminal justice system, they wanted to remain anonymous," Stoll said.
Stoll said social justice is the fight for equal respect and dignity for all persons.
"People have no idea how common sexual assault is, and that is because we don't talk about it," Stoll said. "People assume that it's going to be a lecture about sexism, but it's fun and informative. There is a performance, it's designed to be entertainment as much as educational."