Jeana Everhart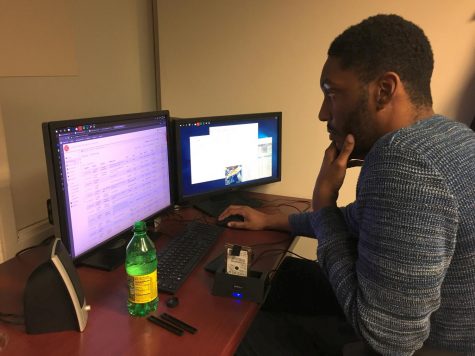 Every week The Shield will feature a student who is employed by the university. This week, Braylon Moore talked about his experience working at the university Information Technology (IT) Department. 
Braylon Moore said he loves the hustle and bustle of his job.
"Every day is something new," the senior geology and science teaching major said. "I always have something to do, we are never sitting on our hands. I love being able to come to work and to get up and just go."
Moore said he has been working as a computer technician in the Information Technology (IT) department for two years. His first job at the university as a student technology consultant in distance learning was just across from the IT department. Moore said the two groups would often collaborate, and when a position became available he was asked if he wanted it.
IT helpdesk supervisor Kim Rollett said Moore was offered the position in the IT department because of his skills in technology and computers.
"He was qualified and had a great personality," Rollett said. "He has an ability to get along with everybody, and he's very motivated. He's just a good person."
Rollett said Moore has taken on more responsibilities since he started in IT, now helping out the desk support team and working on faculty and staff computers instead of just students.
Moore said he also does repairs and maintenance for university computers, labs, faculty offices and students.
Moore said he took the position because he wanted to learn more about technology and computers.
"I really wanted to do geographic information systems," he said. "Having a strong foundation of computer knowledge is essential when working with geographic information systems because you need to know the programming language."
Moore started off with the small task of helping students download Microsoft and rebooting their computers, slowly building his skill situation by situation as the computers rolled in.
"I've learned that I have a lot more patience than I thought I did," Moore said. "Working in IT, it's not the people that are frustration, it's the troubleshooting. It's frustrating sometimes when you can't figure out the problem. I have a method on how I approach certain issues, so it doesn't stress me out too much. I know I have a list of things to go through. That takes a lot of stress off of me."
Moore can now fix computers, build them and work under pressure.
"Communication is essential," Moore said. "Not just with other staff members but being able to speak to students so that they understand what their issue is with their computer and their student account or what have you. We also work under pressure. Sometimes things happen where myUSI will go down or the Wi-Fi will go down and that generates a lot of calls for us. It puts pressure on us, but it's patience that keeps us going. We make sure this university has the most stable and supportive technology to support its students and its staff."
Moore said that even if he is not a computer science major, there are still many transferable skills he can take away from the IT department, especially troubleshooting.
"We troubleshoot on computers all the time," Moore said. "But in life, you're trying to figure out what's going wrong. Even in school, you go back and try to figure out what you did wrong and where you messed up. The biggest thing I've learned is how to troubleshoot and that has transcended into every different aspect of my academic career."
Moore said with technology there will always be issues, and that's why it's so important for the university to have a trained staff available to help students and the campus resolve those issues.
He said one great thing about any job is getting the chance to not just learn about the work but also about yourself.
"When you get a new job it often expands your horizons. You learn more about yourself, and I have over the years that I have been here."