Jordan Auker
Hannah Spurgeon had been having what she called a "bad streak."
The senior studio art and education major had received rejection letter after rejection letter to what seemed like countless art shows she had submitted work to.
With Senior Seminar Exhibition coming up while she was in the midst of such a funk, Spurgeon wrote off the event, thinking there was no way she would get accepted.
"Then I got three things in," Spurgeon said. "I did a double take. Like, they're lying. There must be a typo."
Spurgeon displayed three photographs during the Senior Seminar Exhibition titled "Self Portrait," "The Tower of London" and "Night Sleeper."
Spurgeon said she was surprised to see her self-portrait was accepted. She said just playing in water and placed her camera underneath a Walmart tub. She then photoshopped out the watermarks.
"My mom talked me into putting that one in because I don't really like it," Spurgeon said. "But I have gotten a lot of good feedback on it which I was surprised about."
Out of all her pieces, Spurgeon said "Night Sleeper" is her favorite.
"I love it," Spurgeon said. "It's a mimosa tree flower, and I just think it's so beautiful against the bright blackness. I took it with a flash late at night, and it just captured all the beautiful pinks of color perfectly."
Evan Kisner loves to come up with stories that fascinate people.
The senior art major has focused on illustration and has developed his own style for character expressions and a clean look that he said he doesn't see very often.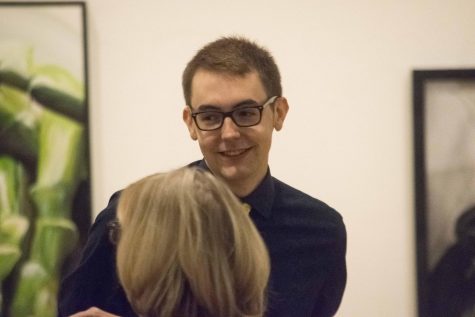 "I have been focusing on characters and design recently," Kisner said. "I have been building their back stories and working with storytelling in that regard."
Kisner's three illustrations "Breaking the Status Quo," "Daybreak" and "Chronicles of the Coffee Cottontails" were accepted into the show.
"I was very happy to get in the show, especially three pieces, and they are some of my most proud work that I have done," Kisner said. "It's great to see them hanging up here."
Kisner said he has been influenced by "Steven Universe" to build up a world of different people. Kisner said he enjoys highlighting mystery, adventure and overcoming obstacles in his stories.
"I would love to get into animation or game design," Kisner said.
Sarah Feagan is an artist and a dress-maker.
"In my mind, those to disciplines aren't separate," the senior studio art major said. "Whenever I make a drawing or a sculpture, there is usually a textile element or reference included in that, and whenever I make a wearable piece, even if it's not a sculpture or a drawing, I make it strong enough to have its own narrative and stand alone, using my meticulous attention to detail and fine craftsmanship."
Feagan was surprised a jack in the box she made in 2016 made it into the show.
She made the box after taking her first wood-working class as a sophomore, and said she fell in love with the medium.
"Wood never dies, right?" Feagan said. "You cut a tree down, and even though it doesn't grow anymore, the wood always warps and stretches and cups and bows and expands and contracts and you have to work with it. It's not something you can dominate, and it won't submit to your will, it does its own thing. I really like that it's like two living things working together to make something really beautiful."
Feagan said she has always had an itch to create. She said she doesn't feel complete unless she is creating something or fostering the growth of something.
She said many of her pieces reflect her own state of mind.
"I find when I create my art it helps me to view myself differently," Feagan said. "When you're in your own head, you can have a lot of negative self-talk and beliefs about yourself. When you are looking at yourself in another form, that really changes your perspective on yourself and makes you have a lot more grace and patience with yourself when you make mistakes."
After she graduates, Spurgeon plans to move home to her family's 80-acre farm and renovate one of their barns into an art studio. She plans to make a dark room studio and ceramics studio.
Eventually, Spurgeon hopes to offer summer workshop classes and become a full-time teacher.
"Those kids light up when you compliment their work," Spurgeon said. "That is what keeps me going. For all those nights that I'm stressed out of my mind making lesson plans, those are what help me."